Doing used tire recycling machine DY-1-10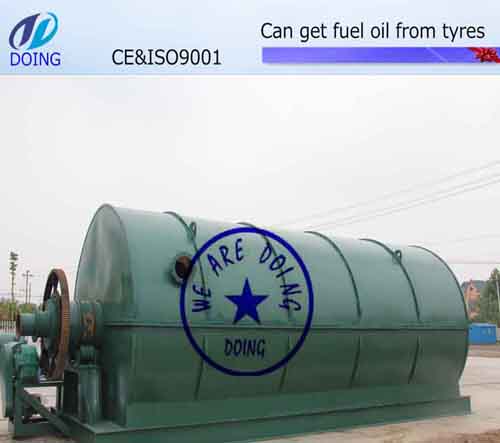 Doing used tire recycling machine DY-1-10
Henan DOING Mechanical equipment CO.,Ltd specialized in the production of used tire recycling machine. we have rich experience and good technology in this filed. The equipments we produced have covered national market and exported to the international market. For example, Our equipments have been exported Romania, Turkey Poland, Haiti, Mexico, Malaysia, Pakistan, India, Bangladesh etc. and we erned a good reputation from our customers.
Output information:

The usage of the final product: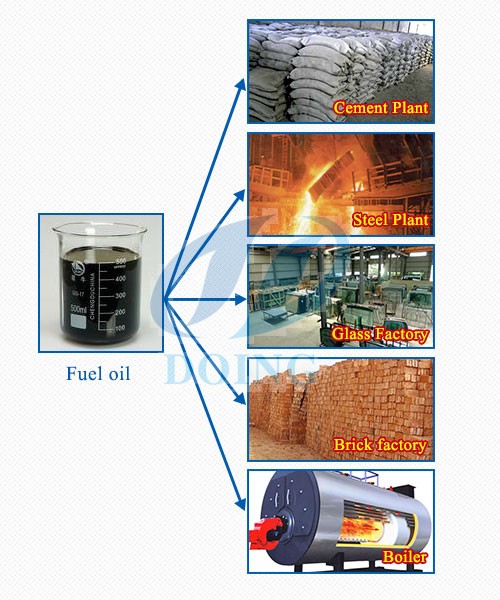 The usage of the final product

1.Fuel oil: oil from this plant can be used as industrial fuel for burning
2.Crude carbon black: crude carbon black from this plant is crude, and it can be sold to the brick factory as internal combustion or to the factory needing it as raw materials, such as tyer, shoe, cable and sealant companies.
3.Steel wire: it can be sold to the iron and steel company directly.
Advantages of our used tire recycling machine:
1. No need shred tires, with auto feeder, could feeding whole tire directly.
2. Double feeding doors, bigger one for tires, smaller one for plastics.
3. Double catalyst chamber, and also add molecular sieve, it can absorb impurities, in this way avoid congestion and improve oil quality. Besides, two catalyst chambers could reach double effect of catalytic,decrease pressure and remove the dust from the oil gas.
4. Two horizontal condensers instead of 5 vertical condenser, and also the volume of one horizontal condenser can be equaled with 3 vertical condensers. Besides, the length has twice, so cooling effect will be better, in this way oil output can be guaranteed and raised.
5. Another two length cooling pipes, the cooling area can be equaled with one vertical condenser, in this way, the cooling result will be better than our forth generation.
6. Double anti-back fire device and two long cooling pipes. Double anti-back fire device will be more safety,and also make full recycling tail gas. The two long pipes can be equaled with one vertical condenser, it will cooling down the tail gas again, guarantee oil output.
7. The exhaust gas, it is white, no pollution, even if you put a white towel on it, you can not see any black. It can meet the emission standard of International required.
With horizonal condenser and excellent cooling system. Our waste tire pyrolysis plant will meet you requirements very well. Welcome to join us.
Technical parameter of used tire recycling machine
 
Items
Contents
1
Equipment type
DY-1-6
DY-1-8
DY-1-10
2
Raw material
Waste tire
Waste tire
Waste tire
3
Structural form
Horizontal rotation
Horizontal rotation
Horizontal rotation
4
24-hour Capacity
6 ton
8 ton
10 ton
5
Oil yield
2.7-3.3ton
3.6 -4.4ton
4.5 -5.5ton
6
Operating pressure
Normal
Normal
Normal
7
Material of Reactor
Q245R
Q245R
Q245R
8
Thickness of Reactor
16mm
16mm
16mm
9
Rotate speed
0.4turn/minute
0.4turn/minute
0.4turn/minute
10
Total power
19KW
19KW
19KW
11
Mode of cooling
Water cooling
Water cooling
Water cooling
12
Cooling area
100sqm
100sqm
100sqm
13
Kind of transmission
Internal gear drive
Internal gear drive
Internal gear drive
14
Noise dB(A)
≤85
≤85
≤85
15
Size of Reactor(D×L)
2200×6000
2200×6600
2600×6600
16
Working form
Intermittent operation
Intermittent operation
Intermittent operation
17
Delivery time
20days
20days
20days
18
Weight
27T
30T
35T
Prev Λ DY-1-5 waste plastic pyrolysis plant NEXT ν Doing waste tire recycling equipment DY-1-8
If you wanna to get more details about Doing used tire recycling machine DY-1-10 or the cost of related pyrolysis machine , you can send E-mail to market@doinggroup.com. You can consult our professional engineer and specialized sales team with leave a message in below form.We will contact with you ASAP.You also can visit our factory in Henan,China.Get Detailed address.