Waste plastic pyrolysis plant project report
Date:2013-06-19 18:13:12 / Pyrolysis Plant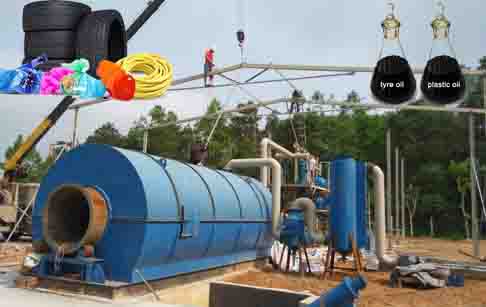 Waste plastic pyrolysis plant

The waste plastic pyrolysis plant is a new green technology for waste plastic recycling, which can be used for turning waste plastics into fuel oil and carbon black. The fuel oil output is about 50%, which can be as a heating material used for heavy industries or distilled to diesel by oil distillation plant. The plastic pyrolysis plant also can be used for pyrolysis of waste tyre, waste rubber or medical waste .


Waste plastic pyrolysis plant

In case of plastic/tyre waste management, pyrolysis is better alternative compared to burning or landfill. Burning wastes which leads to loss of valuable energy from waste. Landfill wastes is known to cause land pollution.

Waste plastic pyrolysis plant process waste plastic to fuel oil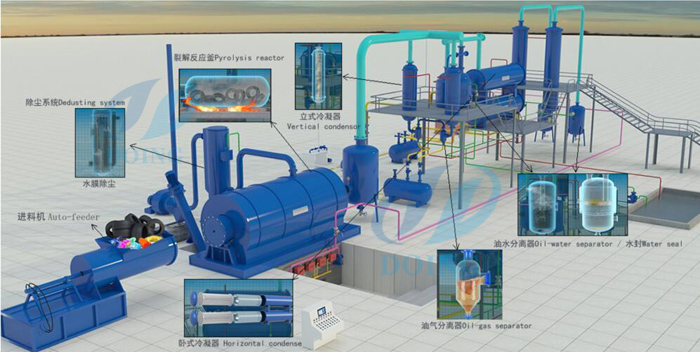 Waste plastic pyrolysis plant process waste plastic to fuel oil

Put raw material into reactor by full-automatic feeding machine. The reactor is supposed to be left 1/3 space for rotating more smoothly. Then make sure the door of feeding machine is closed.

Reactor will be gently heated by burning the fuel material (coal, wood, natural gas, LPG or tire oil generated from last batch). The oil gas will be released when the temperature reached 100℃ (250-280℃ is the top output rate interval). Heavy oil gas separated by manifold is supposed to be liquefied and drop down into the heavy oil tank. The lighter gas will rise up to the oil condensers, be liquefied into oil and stored in the oil tank. The incondensable gas through dusulphuration and dedusting by hydroseal will be led to the furnace for recycling.

After all the above work has been done, cool down the reactor. Then the carbon black will be discharged automatically.

There possibly will be a little exhaust gas left, and you should not expel it until it has reached the emission standard.

Before starting next batch, make sure all the work has been done.

Advantages of waste plastic pyrolysis plant: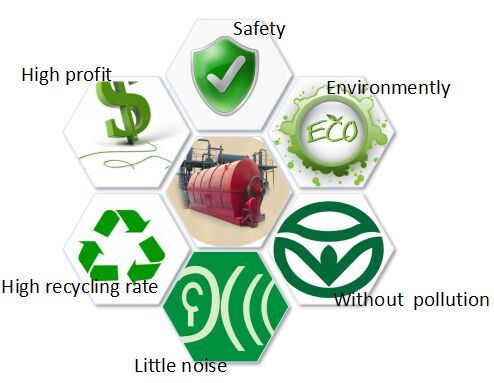 Safety:
A With an auto welding machine for the reactor, it can not only greatly improve working efficiency but also guarantee the quality of welding seam, thus avoid explosion caused by gas leak.
B Professional heating treatment and x-ray detection chamber are especially for welding.
C Vacuum system will prevent oil gas from going back to reactor and causing accident.
D. Professional thermometer, pressure gauge and safety valve.
E It is dangerous to burn exhaust gas (C1 to C4) without any safety measures. In our process, it is transferred first through the safety device and a safety burning air muzzle. Before burning, we should ensure the safety of production.
Environment friendly:
A Well water dedusting system can avoid black smoke.
B The exhaust gas will be recycled for heating reactor, no gas pollution.
C Every junction of the reactor is in good sealing situation with professional sealing material.
Long service life:
A Material: Q245R special steel plate, thickness 14mm.
B Welding: Automatic welding machine with heating treatment and x-ray detection will prolong the service life of reactor to the max.
C The service life of the reactor will be 8 -10 years
Energy saving:
A. Well sealing for heating system, no gas leak and saving fuel.
B The exhaust gas will be recycled for reactor heating.
The fuel oil from waste plastic by waste plastic pyrolysis plant

| | |
| --- | --- |
| Place of Origin | Henan, China (Mainland) |
| Brand Name | DOING |
| Model Number | DY-1-5 |
| type | waste plastic pyrolysis plant |
| land require | 200 sqm |
| weight | 25 tons |
| length | 5500mm |
| colour | according to customer's request |
| modal | 5 tons |
| diameter | 2200mm |
| one batch time | 16 hours |
| welder | aoto-welding |
| Price: | FOB USD 35000.00~70000.00 / Set |
| Minimum Order Quantity: | 1 Set/Sets |
| Port: | Qingdao/Tianjin |
| Packaging Details: | according to customer's request |
| Delivery Time: | 20 days after deposit |
| Payment Terms: | T/T, Western Union |
| Supply Ability: | 10 Set/Sets per Month |