Vegetable oil processing steps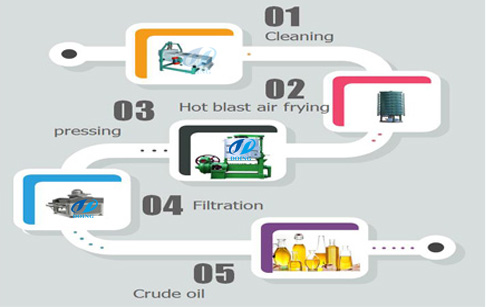 Vegetable oil processing steps

Vegetable oil processing steps:
(1)Pump crude edible oil into refining tank and heat with conduction oil, and the temperature will reach about 70°C-80°C after one hour.Add acid or alkali to separate according to the acid value. After one hour's processing and 4-6hours deposit, then convey soap stock to storage tank.
(2)Pump refined oil into decoloring tank. When it is up to 90-110°C after one hour's heating, add clay into tank for 20min's processing. Then separate clay and oil with filter.
(3)Put decolorizing oil into deodorization tank with vacuum pump. Heat and process with steam for odor removal. After filtering, you will get final oil product.

Prev Λ Crude vegetable seed oil refining machine introductin briefly NEXT ν palm kernel oil pressing machine advantage
If you wanna to get more details about Vegetable oil processing steps or the cost of related cooking oil machines , you can send E-mail to market@doinggroup.com. You can consult our professional engineer and specialized sales team with leave a message in below form.We will contact with you ASAP.You also can visit our factory in Henan,China.Get Detailed address.