What is the main processes of producing vegetable oil?
Date:2014-11-22 17:23:02 / Cooking oil machine FAQ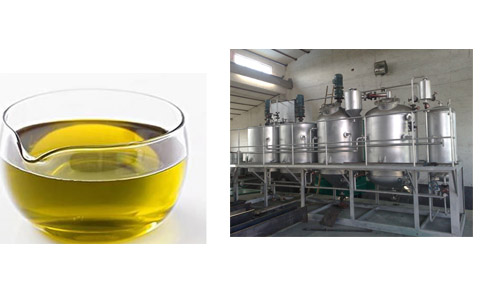 Vegetable oil making machine

Oil seeds---pretreatment---prepress---solvent extraction---refining---dewaxing---refined cooking oil

Vegetable oil producing line
Vegetable oil producing line including 3 parts:vegetable oil pretreatment machines,vegetable oil solvent extraction machines,vegetable oil refinery machines.Above is the basic process of vegetable oil producing .
Vegetable oil pretreatment machines:The purpose of vegetable oil pretreatment machines is to remove impurities,adjust moisture and temperature.Vegetable oil pretreatment machines can improve the oil yield and reduce the machine damage.
Vegetable oil solvent extraction machines:After oil press machine,we can get cake and crude oil.Cake contains oil which should be extracted with vegetable oil solvent extraction machines,then we can get much oil.
Vegetable oil refinery machines:crude oil in oil press machine and oil solvent extraction machine should be refined by vegetable oil refinery machines.After vegetable oil refinery machines,we can get edible oil.

If you have any questions or want to start vegetable oil business,please feel free to contact us.