Waste plastic pyrolysis plant
Date:2013-06-19 17:26:48 / Pyrolysis Plant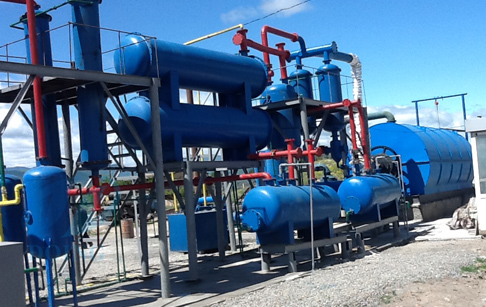 Waste plastic pyrolysis plant

The waste plastic pyrolysis plant adopts an advanced technology called pyrolysis, which can effectively convert waste plastic to oil and carbon black. So the waste plastic pyrolysis plant can be also called plastic pyrolysis plant. Both of the end-products are useful resources and have wide applications. The oil can be used as industrial fuel materials for burning, or further refined to diesel or gasoline. The carbon black can be used for construction bricks with clay or used as fuel. They are both in high demand and sell well in the market.

Waste plastic pyrolysis plant working process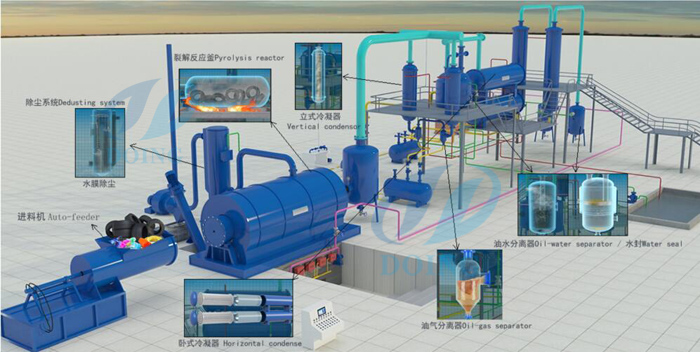 Waste plastic pyrolysis plant process waste plastic to fuel oil
First of all, waste plastic needs to be broken and dried; Then pretreated waste plastic will be conveyed to the moving horizontal plastic pyrolysis reactor through feeder system, it starts to pyrolysis and oil gas will be generated when temperature up to 500 degrees. Then the oil gas will be cooling down by spray cooling system, it would be liquefied, go into the oil tank. And at the same time, some un-condensed gas comes into hot air circulation heating system by secondary fire retardant damper, it will be recycled for heating reactor as gas material. Exhaust gas will go to the strong spray de-dusting system for removing pollution, then let environmental gas go to the air. The pyrolysis slag emissions and recycled through second sealed discharging system.


The benefits of waste plastic pyrolysis plant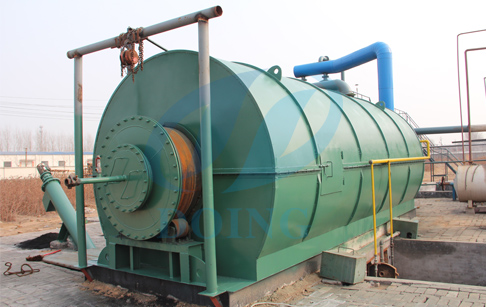 Waste plastic pyrolysis plant
1. Generate quality fuel oil with lower emission.
2. Control waste plastic land pollution.
3. Recover energy from waste plastic.
4. Help recycle carbon.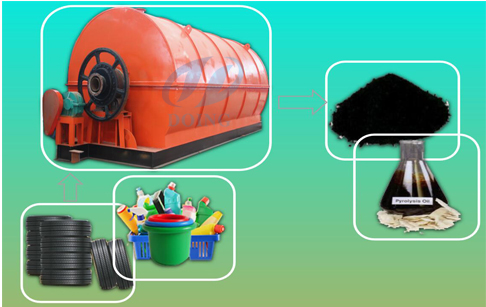 Waste plastic pyrolysis plant
For waste plastic management, pyrolysis is better alternative compared with incineration or dumping. Incineration will lead to loss of valuable energy in waste plastic and air pollution. Dumping will lead to land pollution and a waste of land resource. After the processing of waste plastic pyrolysis plant, it is possible to recover value from waste plastic in the form of pyrolysis oil, hydrocarbon gas and carbon black.

Pyrolysis oil has flash Point between 60 to 93.3 °C.
Purest quality of pyrolysis oil comparable to industrial diesel: selling price comparable to industrial diesel LDO( light diesel oil)

Carbon Black(30 to 35%)
The vital product of pyrolysis plant is carbon black referred as "charcoal"(30 to 35% of total quantity feed).carbon black has Industrial and commercial use.

The oil yield of different kinds of plastic
| | |
| --- | --- |
| PE | 95% |
| PP | 90% |
| PS | 90% |
| ABS | 40% |
| Leftovers of paper | Wet 15-20%, dry 60% |
| House garbage | 35-50% |
| Plastic cable | 80% |
| Plastic bag | 50% |
| Submarine cable | 75% |
| Rubber cable | 35% |
| Sole | 30% |
| Big tires | 45-50% |
| Small tires | 35%-40% |
| PVC | Not suitable |
| PET | Not suitable |