DOING vegetable oil refining process function
Date:2014-11-19 16:01:01 / News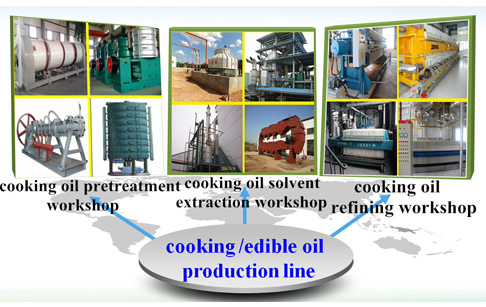 Cooking oil refinery plant line

Functions of Vegetable oil refining process:

(1) Refining section: used to P-acid de-gumming, alkali refining de-acid and water rinsing.
(2) Decoloring section: used to remove off pigments, bleaching oils and grease dehydrate, make the oil lucency
(3) Deodorizing section: to remove off the odor components in oil, let the oil have a good smell
(4) Dewax section: used to remove off the wax in the oil, in order to get the high quality oil.
Vegetable oil processing steps:
(1)Pump crude edible oil into refining tank and heat with conduction oil, and the temperature will reach about 70°C-80°C after one hour.Add acid or alkali to separate according to the acid value. After one hour's processing and 4-6hours deposit, then convey soap stock to storage tank.
(2)Pump refined oil into decoloring tank. When it is up to 90-110°C after one hour's heating, add clay into tank for 20min's processing. Then separate clay and oil with filter.
(3)Put decolorizing oil into deodorization tank with vacuum pump. Heat and process with steam for odor removal. After filtering, you will get final oil product.