Palm Oil Industry in Thailand
Date:2014-11-14 15:54:18 / News
With refining, crude palm oil has many uses ranging from food applications to the fuel that runs our cars. Both worldwide and in Thailand,the palm
oil industry has increased very rapidly in recent years. In this section, we will discuss the applications of palm oil and the growing industry before moving
into the growing and harvesting of the oil palm tree.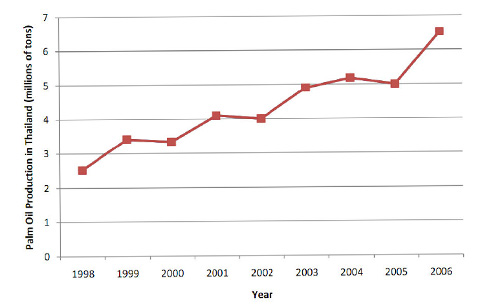 Palm oil industry in Thailand

There is a variety of uses for palm oil. About 90% of palm oil produced is used in food-related applications. After refining, palm oil contains only about
50% saturated fat, is free of cholesterol, is odorless and tasteless, and contains many antioxidants. It lacks trans fat and can be a healthier substitute
for other seed oils like soybean and canola oil. There are many products fried in palm oil, including potato chips, French fries, doughnuts, ramen noodles,
and nuts. Palm oil can also be separated into a solid part called the stearin, which is used in shortening and margarine, and a liquid part called the olein,
which is used as frying oil. Non-food applications for palm oil can be divided into two categories, products that use the oils themselves and products that
use oleochemicals, which are chemicals derived from the oil. Some products made with the oil itself include soaps, plastics, drilling mud, and biofuel.
Products made with oleochemicals derived from palm oil include candles, lotions, body oils, shampoos, skincare products, rubber, and cleaning products.