Waste plastic pyrolysis oil plant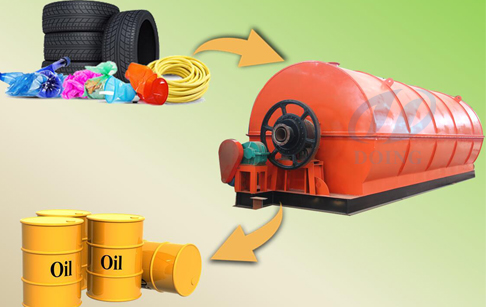 Waste plastic pyrolysis oil plant

With the development of modern society, plastic products have become more and more popular. At the same time, waste plastic is also increasing. Under this circumstance, the solid waste has caused a great pollution to the natural environment. After several years' reaching and summary of experience,
Doing group has developed the perfect waste plastic pyrolysis oil plant (also called plastic pyrolysis plant), which can produce products with high values, such as the fuel oil and carbon black

Waste plastic pyrolysis oil plant working process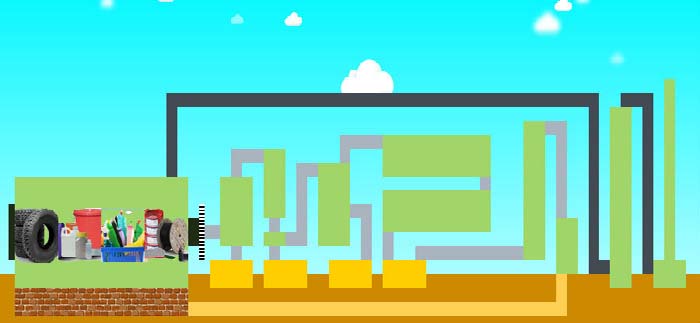 Waste plastic pyrolysis oil plant process waste plastic to fuel oil and carbon black
Pretreated plastics will be conveyed to the moving horizontal pyrolysis reactor through feeder system, it starts to pyrolysis and oil gas will be generated when temperature up to 500 degrees. Then the oil gas will be cooling down by spray cooling system, it would be liquefied, go into the oil tank. And at the same time, some uncondensed gas come into hot air circulation heating system by secondary fire retardant damper, it will be recycled for heating reactor as gas material. Exhaust gas go to the strong spray dedusting system for removing pollution, then let environmental gas go to the air. The pyrolysis slag emissions and recycled through second sealed discharging system.

The final products from waste plastic pyrolysis oil plant can be pyrolysis oil, carbon black and some combustible gas. And they all have a wide range of applications.


Plastic pyroysis oil plant final product

(1)Pyrolysis oil can be used as industrial fuel material for burning or can be further purified to diesel or gasoline.
(2)The carbon black can be used as fuel orfurther processed into N330 carbon black by carbon black processing machine.


1. Overview of waste plastic pyrolysis oil plant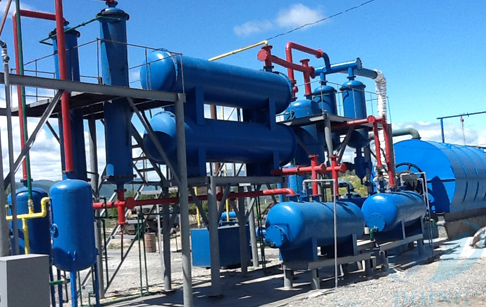 Waste plastic pyrolysis oil plant


The whole waste plastic pyrolysis oil plant is composed by 13 parts, which are reactor, transmission device, catalytic chamber, top cooling pipe, heavy oil tank, oil-water separator, condenser, light oil tank, safety device, vacuum system, dedusting system, draft fan, chimney.

The two keys of waste plastic pyrolysis oil plant are reactor and cooling system.

Reactor directly decides the safety and service life of waste plastic pyrolysis oil plant DY-1-10. It is made by welded steel plate. So the quality of welding will have a direct impact on safety and service life. Therefore, we use automatic welding machine, X- ray detection and heating treatment which will not only guarantee the quality of welding but also greatly improve working efficiency.

For cooling systems, there are two steps. Cooling pipe is the first step. The second is condenser. We have three condensers. And there are 57 pipes in one condenser. Diameter is 48mm for one small pipe. The heat exchanging area is about 13square meters for one condenser. So the total cooling area is about 40 square meters, which will guarantee you a high oil yield.

Main features of waste plastic pyrolysis oil plant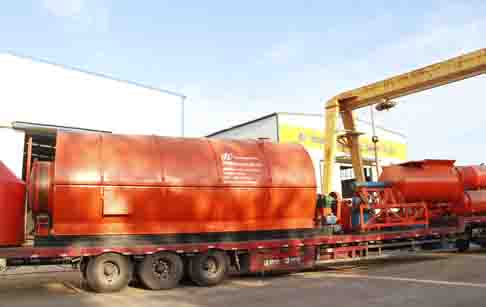 Waste plastic pyrolysis oil plant


Safety:
A. With an auto welding machine for the reactor, it can not only greatly improve working efficiency but also guarantee the quality of welding seam, thus avoid explosion caused by gas leak.
B. Professional heating treatment and x-ray detection chamber are especially for welding.
C. Vacuum system will prevent oil gas from going back to reactor and causing accident.
D. Professional thermometer, pressure gauge and safety valve.
E Waste plastic pyrolysis oil plant is dangerous to burn exhaust gas (C1 to C4) without any safety measures. In our process, it is transferred first through the safety device and a safety burning air muzzle. Before burning, we should ensure the safety of production.



Environment friendly:
A Well water dedusting system can avoid black smoke.
B The exhaust gas will be recycled for heating reactor, no gas pollution.
C Every junction of the reactor is in good sealing situation with professional sealing material.

Long service life:
A Material: Q245R special steel plate, thickness 14mm.
B Welding: Automatic welding machine with heating treatment and x-ray detection will prolong the service life of reactor to the max.
C The service life of the reactor will be 8 -10 years

Energy saving:
A. Well sealing for heating system, no gas leak and saving fuel.
B. The exhaust gas will be recycled for reactor heating.

Technical parameter of waste plastic pyrolysis oil plant

NO.

Items

contents

1

Equipment type

DY-1-10

2

Raw material

tires/plastic

3

Structural form

Horizontal rotation

4

24-hour Capacity

10 ton

5

Oil yield

4.5 ton

6

Operating pressure

Normal

7

Material of Reactor

Q245R

8

Thickness of Reactor

16mm

9

Rotate speed of Reactor

0.4turn/minute

10

Total power

23.5KW

11

Mode of cooling

Water cooling

12

Cooling area of condenser

65sqm

13

Kind of transmission

Internal gear drive

14

Noise

≤

85 dB(A)

15

Size of Reactor(D×L)

2600mm×6600mm

16

Working form

Intermittent operation

17

Delivery time

20days

18

Weight

45T
Prev Λ Feedstock recycling and pyrolysis of waste plastics plant NEXT ν Waste plastic recycling machines
If you wanna to get more details about Waste plastic pyrolysis oil plant or the cost of related pyrolysis machine , you can send E-mail to market@doinggroup.com. You can consult our professional engineer and specialized sales team with leave a message in below form.We will contact with you ASAP.You also can visit our factory in Henan,China.Get Detailed address.