Used rubber and plastic recycling machine
Date:2013-06-19 15:30:49 / Pyrolysis Plant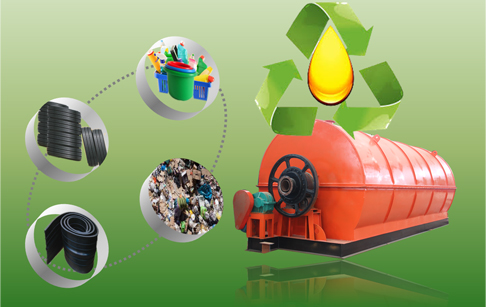 Used rubber and plastic recycling machine

Used rubber and plastic recycling machine is mainly used to extract crude oil from used rubber, waste plastic, waste tyre , andconvert gaseous and solid pollutant into harmless substance.


Used rubber and plastic recycling machine advantage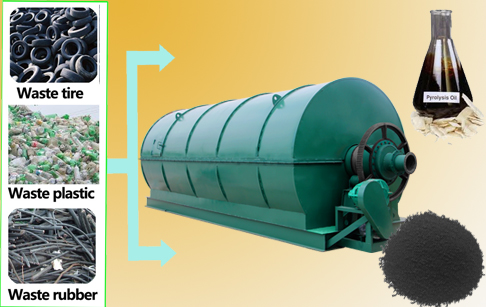 Used rubber and plastic recycling machine

1. High Oil Yield. Generally speaking, the oil yield of rate our used rubber and plastic recycling machinecan reach 45%-50% for the big waste tyres. For the small waste tyres, the oil yield rate can be 35%-40%. The oil yield rate may be the most important factor when you choose a used rubber and palstic recycling machine. In addition, ou plant uses the rotary condenser, which can promote oil yield and make it convenient to maintain the plant.

2. Longer service life. The new heating structure is unique in the market, which combines the advantage of directly heating and hot-wind heating. Thus the new hating system can increases heating speed and prolong the service life of the plant. At the same time , it can aslo improve production efficiency and reduce production cost.

3. Safety guarantee. The whole used rubber and plastic pyrolysis process is carried out under the high temperature, and our device is equipped with casing outside of reactor. So the high temperature will not cause harm to the people around the plant.


Working process of used rubber and plastic recycling machine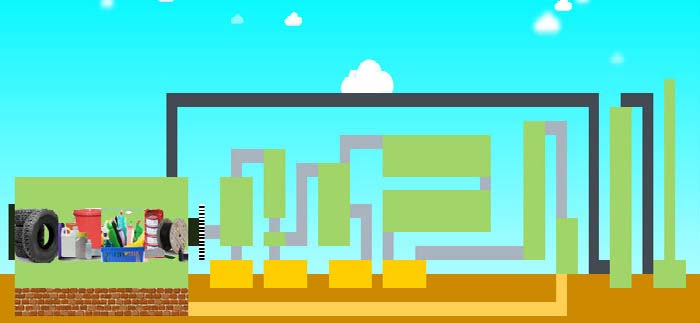 Used rubber and plastic recycling machine

First, put raw materials (waste plastic orwaste tire and used rubber) into reactor by auto-feeder, then heat the reactorwith any one of the following fuel materials: coal, wood, natural gas, oil. Donot stop heating the reactor, when the temperature reaches nearly 250 degreeCelsius, waste plastic will be transferred to oil gas.

Second, the liquid oil will be cooled bycondenser from oil gas and then collected by oil tank. Third, the exhaust gaswhich can't be cooled in normal pressure will be recycled to heat the reactor.In this way, you can not only saving energy, but also protecting environment.

Fourth, smoke produced by processing theplastics can achieve national emission standard through dual desulfurizationand dusting removal device.

Fifth, after you get oil, the temperaturewill be low, at this time; carbon black will be discharged automatically.

Usage of final product of used rubber and plastic recycling machine


FUEL OIL (45% to 50%)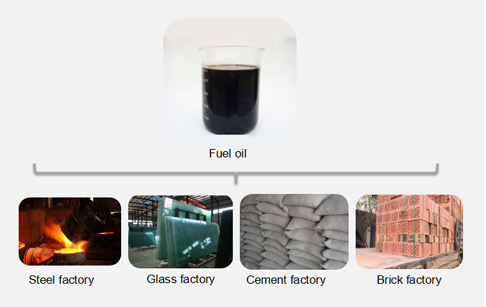 Fuel oil application
The main product generated by our used rubber and plastic recycling machine is fuel oil, which is widely used inindustrial field so that has great commercial benefits. The oil has 45% to 50%yield of the amount of recycled plastic, which can be used in power plantfactory, glass factory, cement factory, ceramic factory, aluminum factory,boiler factory, central heating factory etc.


CARBON BLACK (30% to 35%)(for used rubber)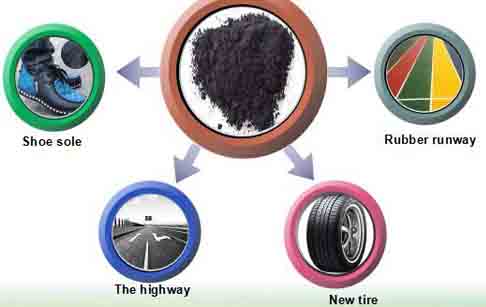 Carbon black application
Carbon black produced by used rubber and plastic recycling machine is more economical compared to carbon black producedprimarily from petroleum and is much more price-efficient to be used as rawmaterials in the industries listed.

Carbon black is used as raw material inmany industries and the chemical structure of carbon black strengthens,lengthens the endurance and improves the coloring features of the materials.


Profit analysis of used rubber and plastic recycling pyrolysis machine:


(here we take 10 ton used rubber and plastic recycling machine as example)

Cost:

Raw material cost: ___USD / TON×10Ton=___USD

Fuel material cost: ___USD / KG× ___KG=___USD

(Here you could have four differentchoices: 5000 kilocalorie Coal—500kg, Fuel oil—170-200kg, Naturalgas—270-300cubic, Wood—700-800kg)

Powder consumption: Average 10KW/h___USD/KW×20hours= ___USD

worker's salary: ___USD/Day×4Persons=___USD

Profit:

Oil Profit: ___USD/Ton×4.5Ton= ___USD

Carbon black: ___USD/Ton×3Ton= ___USD

Steel wire: ___USD/Ton×1.5Ton= ___USD

Gross Profit:

Total profit ___USD - Total cost___USD= ___USD


Note: You can calculate profit according tolocal situation. Generally speaking, you could recover your cost in 4 to 5months, one year later, you will become very rich.