How is palm oil made?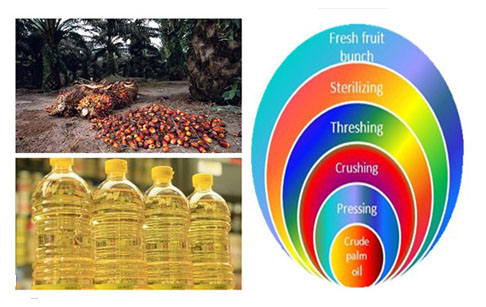 How is palm oil made?
Palm oil is one of the top 3 vegetable oils in the world, with the largest production and trade volume. So, how is palm oil made?
Step 1 Sterilizing section: Fresh palm fruits have to be sent to sterilize to avoid AV (acid value) rise by sterilize the fatty enzyme with high temperature. At the mean time, sterilizing section can also soften the fruits, which benefits the threshing section and reduces the damage to kernel.
Step 2 Threshing section: The purpose of threshing is to separate the palm fruit from the FFB(fresh fruit bunch) by rotary drum thresher.
Step 3 Crushing section: The purpose of crushing is to separate the pulp and kernel, soften the pulp with heat and to destroy the pulp cell structure.
Step 4 Pressing section: After sterilizing, threshing and crashing, palm pulp become soft and the cell structure is broken. In another word, we can easily get the oil with spiral oil press, which is also called CPO(crude palm oil).

Prev Λ How to deal with palm oil mill effluent? NEXT ν Why palm oil refinery is necessary?
If you wanna to get more details about How is palm oil made? or the cost of related cooking oil machines , you can send E-mail to market@doinggroup.com. You can consult our professional engineer and specialized sales team with leave a message in below form.We will contact with you ASAP.You also can visit our factory in Henan,China.Get Detailed address.