Palm oil production process
Alongside the development of large-scale fully mechanised palm oil mills and their installation in plantations supplying the international edible oil refining industry, small-scale village and artisanal processing has continued in Africa. Ventures range in throughput from a few hundred kilograms up to 8 T FFB(fresh fruit bunch) per day and supply crude oil to the domestic market.
The general flow diagram is as follows: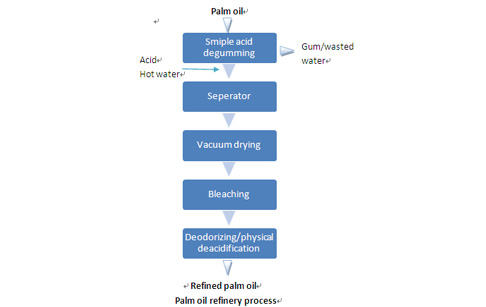 Palm oil production process

Palm oil production process:
Step 1 BUNCH STERILIZATION: FFB (fresh fruit bunch) have to be sent to sterilize to avoid AV (acid value) rise by sterilize the fatty enzyme with high temperature. At the mean time, sterilizing section can also soften the fruits, which benefits the threshing section and reduces the damage to kernel.

Step 2 BUNCH THRESHING: The purpose of threshing is to separate the palm fruit from the FFB by rotary drum thresher.

Step 3 FRUIT DIGESTION: The purpose of digestion is to separate the pulp and kernel, soften the pulp with heat and to destroy the pulp cell structure.

Step 4 PULP PRESSING: After sterilizing, threshing and crashing, palm pulp become soft and the cell structure is broken. In another word, we can easily get the oil with spiral oil press, which is also called CPO(crude palm oil).


Prev Λ Palm kernel oil extraction line Next ν Palm oil refinery machinery
If you wanna to get more details about Palm oil production process or the cost of related Palm Oil Processing Plant , you can send E-mail to market@doinggroup.com. You can consult our professional engineer and specialized sales team with leave a message in below form.We will contact with you ASAP.You also can visit our factory in Henan,China.Get Detailed address.