India customer successfully running waste tyre pyrolysis plant with a high oil yield
Date:2014-06-04 15:57:02 / News
Our old customer Mr.Dheeraj from India,hecame to our factory in 2012,and after visiting many factories,he finallydecided to buy waste tyre pyrolysis plant from us with satisfied our threeadvantages:

1. Best quality—Firstly, DOING waste tyre pyrolysis plant use raw material testing machines, such as :impact testerand impact test cryogenic tank,e ct. when we purchased raw material, such assteel from the market,we don't know whether it is good or not, because even thesame steel model has different price in steel market, so, we will do test forraw materials under different temperature. Secondly, we use excimer cutting machines and auto-weldingmachines which guarantee accurate cutting and accurate welding.Thirdly, after welding, you cannot tell whether the weldingis good or not only by eyes, so we use X-ray Test to test the welding, even atiny hole is not allowed, we will rewelding it. This is very important tocontrol the safety of this system. If welding not well, easily to causeaccident.
2. Good service-Short deliverytime, usually we deliver waste tire pyrolysis plant after 15-20days,if we have
Cargo at present, could deliver to youimmediately. We have professional staff to provide you the after sales service,get visa for engineers and provide service for the machines at any time.
3. Rich experience of exporting, installationand getting visa for engineers.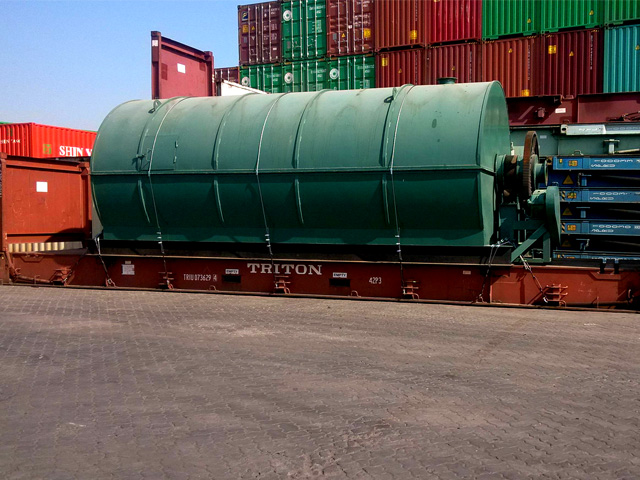 Delivery waste tyre pyrolysis plant to India
Until now we have exported more than 100 sets waste tyre pyrolysis plant to20 foreign countries.
Africa: Nigeria, Congo, Egypt, Uganda
Europe: Romania, Poland, Italy, Macedonia, Albania
Mid-east: Iran
Southeast Asia: Malaysia, Pakistan, India, Thailand
South America: Mexico, Ecuador, Haiti, Guatemala
Caribbean Area: Aruba
Our engineers are of rich installation experience on waste tyre pyrolysis plant, and will provide you professional guidance, guaranteeyour machines working well and teach your workers how to operate this machine,then came back.
Now this customer's machine is running very well, and the oil yield of his waste tyre pyrolysis plant is about 43%, he could easily sell his oil at a price around 35Ruppes/kg.