Romania installed DOING waste tire recycling machine
Our waste tire recycling machines by using DOING pyrolysis technology successfully installed in Romania in Dec.2012.
In Dec.2012,Romania customer visited our factory with stayed in China about 20 days specially for waste tire recycling machines, because his country hasvery strict regulations on waste tire recycling machines, like at safety, environmental protection,emission standard, quality certification, service etc aspects must comply with EU standards. Especially in terms of environmental protection must meet strict requirements in his country.
Therefore, this customer visited many suppliers, studied many machines. After compared with various aspects, customer ultimately choose to cooperate with our company. Customer confessed that: it is DOING company's high standards of product quality (X-RAY detection), recognition and responsibility for environmental protection, constantly updated technology as well as thoughtful service that let him make his final decision to make a long-term cooperation with DOING.
The second day after we signed contract, customer call his parter who is in Romania to send us the deposit.
DOING GROUP is continuously improve there facilities, upgrade their technology according to customer needs. DOING expertise is the guarantee of customers reassure purchase and attentively let customer feel relieved.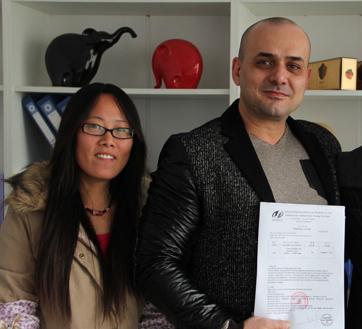 Romania customer signed contract with us for one set 10 ton waste tire recycling machines in 2012
Prev Λ 2sets old tyre to oil machine installed in Albania NEXT ν Nigeria customer bought waste tire recycling to oil machine
If you wanna to get more details about Romania installed DOING waste tire recycling machine or the cost of related pyrolysis machine , you can send E-mail to market@doinggroup.com. You can consult our professional engineer and specialized sales team with leave a message in below form.We will contact with you ASAP.You also can visit our factory in Henan,China.Get Detailed address.