Use of waste tires need policy support
Date:2014-01-24 15:39:51 / Industry Trends
Large amounts of waste tires are discarded, and deposited on the open ground. Some waste tires are used by small individual workshops for retreading and pyrolysis. Illegal operating and processing the waste tires exists huge danger. It not only takes up valuable land resources, the poisonous and harmful ingredients also have bad effect on environment, such as the haze weather recently. Scientific renovation and pyrolyze waste tires can save a lot of cost of resources and production.
Since winter, raging haze weather appear in most areas of China, people will pay more attention and focus on how to reduce the energy conservation and emissions reduction, how to make the effective use of waste tires is one important part. Compared with the new tires, waste tires retreading saves a lot of tire production process, which is internationally recognized as the main way to waste tires recycling. Besides, scientific waste tires pyrolysis is also another new choice.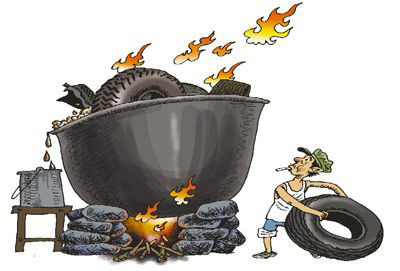 Waste tires to oil
In fact, the use of waste tires is far more than that. Recently, the first low carbon environmental protection highway was completed and open to traffic in China, the road paving material is waste tires. Process waste tires into rubber asphalt as paving material. The new products reduce the harmful gas emissions of asphalt decreased by 90%, greenhouse gas emissions by nearly 50%, 40% energy saving.
"To make full use of waste tires, the government should make related policy for supporting the new trend."Mr. Zhang said. Set the legal laws to limit the waste tires transportation, storage, processing and recycling. Encourage the legal and scientific waste tires recycling factories to process waste tires. At the same time, the government will take some subsidy or tax preference to improve the positivity of recycling industrial factories.