Global Waste Tires Recycling Utilization Status
Date:2014-01-22 11:18:43 / Industry Trends
"Black pollution"endangering the entire world
With the rapid development of automotive industry, "black pollution" is generated by more and more waste tires which are now threatening the human beings'living environment.
According to statistics, there are about 1.5 billion waste tires generated in the world every year, there are nearly 300 million waste tires generated by United States, after decades of accumulated, waste tires in US are up to three billion till now. China is the third largest producer of tires in the world. The tire output quantity of 2000 is more than 100 million which is second to United States and Japan, waste tires are generated annually are up to 40 million.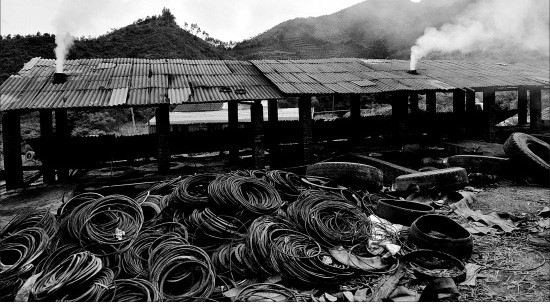 "black pollution"
In the outskirts of Beijing, Shanghai and other major cities could seeseveral kilometers stretches, like mountain of waste tires accumulation point. Waste tires are piled up with a long term, not only takes up a lot of land, but also is easy to breed mosquitoes with carrying acute infectious disease, after sun and rainy.As well as easily cause a fire. Waste tiresareone of the most hazardous waste endangering to deterioration the natural environment, destroying vegetation, affecting humans' health. The disadvantage from this kind of" black pollution"is far greater than the "white pollution." Therefore, the industrialized countries are seeking the best way to recycling waste tires.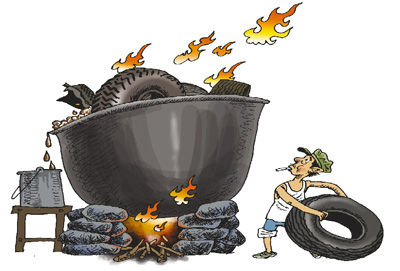 Waste tire in Burning
Recycling technology innovating,China overcome technical difficulties
Waste tires are not melting or refractory elastic polymer material, they can't changed for high flexibility, high toughness in the range of 50 ℃ ~ +150 ℃, they are called "stubborn". If burning it, which released smoke and carbon monoxide, it will seriously pollute the atmosphere. Using chemical methods to solve also can cause secondary pollution. Therefore, the usual methods of solid waste disposal, as landfill, incineration, etc., are not suitable for tires.So, waste tires recycling are far greater than other solid waste. How to recycle, reuse and turnwaste tires into treasure, every country is in the exploratory stage, the ways to solve are not the same.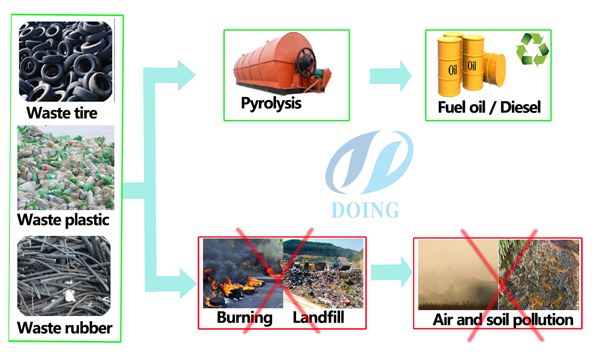 How to recycle waste tires in right way
HenanDoingMechanical Equipment Co., Ltd. adopts hightech recycling technology with high temperature pyrolysis method to derive fuel oil,carbon black and steel wire with reducing pollution to the environment and waste gas, get lots of good feedback from our customer.
DOING is your best cooperation partner!