Rice bran and rice meal, which is better to be made for animal fodder?
Date:2014-01-07 10:45:50 / Cooking oil machine FAQ
Rice bran content 16%-20% oil, after extracted the oil, the rest is called rice meal, the appearance of rice bran and rice meal look very similar. Both rice bran and real meal can be made use of animal feed, but the performance of rice meal is much better then rice bran.
During extracting oil, the rice bran is processed by hot temperature, which can increase the protein content, make the lipase loose activity, and kill the liposome, bacteria and many other bad material, in normal storage condition, rice meal can be stored at least 3 months and doesn't deteriorate. However, in the normal condition, rice bran will become acidification and deterioration just in 3 to 7 days.
Rice meal is high quality fodder material, it can be directly used for poultry farming, and can also be sued as fodder additive. Rice meal content high protein, crude fiber, mineral substance and other materials, it also content vitamin B, vitamin E, and potassium, silicon, amino acid etc. and other nutritive elements.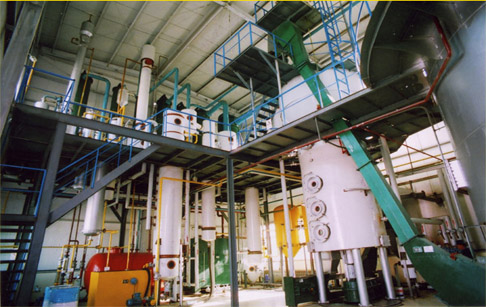 Rice bran oil extraction machine

As to rice bran, fish oil, oil seed, digested tankage, fatty, oil grease and other oil content fodder material, they can be acidification because out of date or incorrect storage. If these acidification material are used in animal fodder, the fat-solube vitamin in fodder will be damaged, and the taste of fodder will be very bad, it reduces fodder taste and convert ratio. What's more, these kinds of high oil content material is easy mildew, which can not be used for feed animal any more.
However, the first class rice bran oil in the market is about 3000 USD per ton, the rice bran price fluctuate 200 USD 350 USD to, but the price for rice meal is comparatively stable, it price is about 300 USD per ton. If adopting our rice bran oil extraction machine, we can not only get stable quality rice meal for fodder, but also can get high profit from the rice bran oil.
Doing company has rich experience in rice bran oil field, we have made many rice bran oil project and rice meal fodder project during the past 40 years. We will provide customer the full project design to make full use of rice bran, get the largest profit.