Comprehensive utilization of waste tyre recycling industry
Date:2013-12-25 21:53:01 / Industry Trends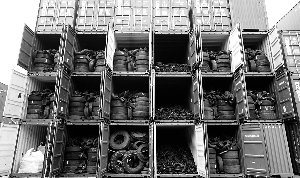 Waste tire
"The problem of comprehensive utilization of waste tyre recycling industry must rise to the height of Ecological Civilization Construction View. It is of great significance to eliminate black pollution, promote green energy resource conservation." Comprehensive Utilization of Waste Tyre Recycling Industry Association which focuses on changing current industry situation contains "black pollution" and waste resources will enter a new stage.
In following 2 or 3 years, Comprehensive Utilization of Waste Tyre Recycling Industry Association will focus on 2 events.
a. To guide industry development direction by good policies
In a series of industry policy guidance and support, the waste tyre recycling industry are advocated as green energy resource. Waste Tyre Recycling has been realized by the whole society, at the same time, it also has brought opportunities to develop waste tyre recycling industry. Waste Tyre Recycling Industry is converting traditional processing method and concept into new industrialization, which aims to saving resources, and protecting environment under clean producing process. Not only simple recycling, but also to produce clean production, reuse recycling resource and transform the harmless disposal way of waste tyre.
b. No lag of regulating recycling system
Comprehensive utilization of waste tyre recycling industry has been criticized by public for environmental pollution, such as air pollution, land pollution, and waste of resource. In fact, regulate enterprises can control pollution and improve the utilization rate of resources completely in production process. To reduce black pollution and waste of resources by making small refining and reclaimed rubber, tire and so on. Waste gas, waste material, and waste oil which produced during production process, seriously polluted the air and land.
To make full use of markets and resources, choose a better and clean way for the rubber production enterprises, importing some kinds of waste tyre from foreign countries is a good choice. It can help us to make up for our waste tyre resources, promote the development of reclaimed rubber industry in China.