The Ivory Coast client came to our factory to study the palm oil processing machine
Date:2013-11-29 22:54:02 / News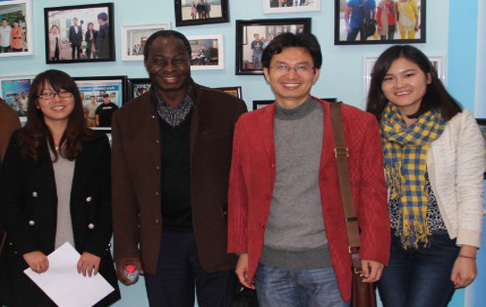 The Ivory Coast customer came to our factory
As the policy of encouraging oil palm plantation in West Africa, there are more and more customers are interested in our palm oil processing machine. Our palm oil processing machine includes three production lines:
+ Palm oil processing machine with extraction line.
+ Palm oil processing machine with refinery line.
+ Palm oil processing machine with fractionation line.

Palm oil extraction machine is used to extract the crude palm oil from the oil palm, it includes 6 main parts, oil palm receiving, sterilizing, threshing, cooking, pressing, palm nuts recovering.

Palm oil refinery line is used for improve the crude palm oil quality , to make the crude oil to colorless and odorless cleaning cooking oil. It includes 4 sections, degumming, deacidification, bleaching and deodorization.

Palm oil fractionation line is used to separate the palm olein and palm stearine. As we know, in normal temperature, the palm oil is sticky. The fractionation is utilizing controlling the temperature to further process the palm oil, it can effectively increase the palm oil value.

The Ivory Coast customer came to our factory to survey the palm oil processing machine. He plans to come to our factory in March 2014 once again to discuss the details.

Welcome to visit our factory and inquiry about other kinds cooking oil making machines.