Waste tire/plastic/rubber can be recycled to pave road
Date:2013-11-20 15:44:18 / Industry Trends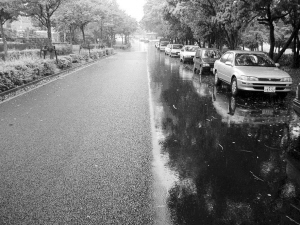 The new high-tech road VS normal road
  From earth road, gravel road, flagging road to asphalt road, the change of road not only reflects the progress of human society civilization, but also reflects the improvement of science. The old pitch is easy to fusion at high temperature, crack in winter, it is hard for vehicles to go through, and the new high-tech pavement is born at the right moment. Such as, use waste tire as raw material can anti-aging. And through the development and application more than 40 years, tire rubber powder modified asphalt has become the most common material in Arizona, California and so on. This new high-tech pitch can anti-aging, anti-cracking, and heat resisting
As India's media reported, the Executive Chairman of New Delhi Industry and Infrastructure Development Bureau Jaraji said that in the future road construction of New Delhi, waste plastic will be as important as cement. As reported, engineer personnel smash waste plastic into powder, and then mix them with pitch. This new high-tech pavement prolongs working life of road because it is convenient to repair after damaging, and rainwater is hard to stockpile in road. There is a "waste plastic road" as long as 1km in Bangalore, India now. The road test after rain washed remains intact. Polyethylene and polypropylene from waste plastic can instead of nearly 8-15% of the pitch. It also saves a lot of cost. Likewise, the National Highway Research Center of Finland mix waste plastic with pitch to pave road. The method is as following:
Firstly, smash waste plastic cups, bags or bottles. Secondly, heat them together. Thirdly, add solvent into them after heating. Lastly, mix the product into pitch. It will be almost 30% of pitch. The road paved by this new high-tech pitch is more elastic, and the noise between vehicle wheels and road will be lower.
Moreover, Vancouver in Canada is trying to pave road by this new kind pith, too. This method produces and transports pitch at low temperature, which will reduce 20% carbon emission by heating pitch.