New Solution of Plastic Problem—Waste Plastic Recycling pyrolysis oil machine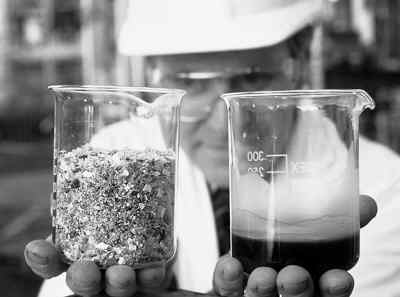 Waste plastic recycling
Now the waste plastic recycling pyrolysis oil machine is becoming more and more popular in the world. Why? The terrible increasing waste plastic Problem. Every piece of waste plastic ever made or disposed to a landfill still exists. Why? Waste plastic is not a natural product therefore nature has no way to break it down, other than 100 to 1000 of years. Much more waste plastic was manufactured in the last 9 years than all of last century. Face the increasing waste plastic, the waste plastic recycling pyrolysis oil machine can solve the serious problem. The green new project- waste plastic recycling pyrolysis oil machine not only solves the waste plastic recycling problem, but also produces new green energy-fuel oil which brings huge profit.

Over recent decades we have moved to a society of disposable plastic products. Plastic has a wonderful array of properties that have made it ideal for many of these applications. However the rate at which we are demanding these items is growing rapidly and is unsustainable. The total world plastic production in the first decade of this century has roughly equaled the total plastic production of the entire 20th century. However what has gone unnoticed by almost all of us is the disposal problem this has made and continues to make.
As we know, the waste plastic is difficult to be disposable.People try to find out one way to make use of the waste plastic. In China, we have waste plastic recycling pyrolysis oil machine for many years. This project aims to solve the global waste plastic pollution problem. We now have millions of tons of waste plastic to dispose of every year. 30 million tons in the USA, 5 million tons in the UK and 1.5 million tons in Australia, let alone the rest of the world. If recycling such huge quantity of plastic and pyrolysis those into green energy by waste plastic recycling pyrolysis oil machine, that would be saving a lot oil resource. And get large profit from the green project. Different material of waste plastic has different oil yield in the waste plastic recycling pyrolysis oil machine. Such as PP, PE, PS are very good material which nearly 90% oil yield. That means, put 10 tons PP, PE, PS into the waste plastic recycling pyrolysis oil machine, you can get 9 tons fuel oil.

Prev Λ How to choose address for waste tire/plastic pyrolysis plant. NEXT ν How to reduce the environmental hazards? --waste plastic pyrolysis oil mahine
If you wanna to get more details about New Solution of Plastic Problem—Waste Plastic Recycling pyrolysis oil machine or the cost of related pyrolysis machine , you can send E-mail to market@doinggroup.com. You can consult our professional engineer and specialized sales team with leave a message in below form.We will contact with you ASAP.You also can visit our factory in Henan,China.Get Detailed address.