Unconventional Oil & EOR Russia Forum(3 - 4 December 2013, Marriott Grand Hotel,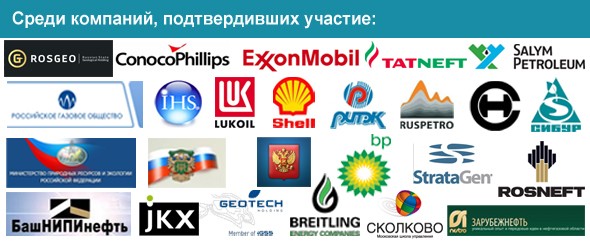 Companies attended Unconventional Oil & EOR Russia Forum
The Conference Unconventional Oil and Enhanced Oil Recovery in Russia Facts and Figures:
- The FIRST high-level international forum to discuss opportunities for unconventional oil production in Russia, the country with the world's largest estimated unconventional oil reserves!
- 8 informative sessions, strategic debates, parallel streams and interactive discussions
- over 150 delegates anticipated
- 50+ top-level speakers - senior government officials, major international & Russian oil company executives, leading experts and policy-makers
- 21 years of Oil & Gas Directory Conferences' experience of providing high level strategic events in Russia & the CIS
Who should attend this forum?
Senior management from:
Oil & gas operating companies, upstream and downstream

Contractors & oilfield service providers

Government agencies, embassies & trade delegations

UO & EOR equipment manufacturers & suppliers

Geological / geophysical consultants & engineers

Environmental & risk management service providers

Consultancies & law firms

Banks, financial analysts & insurance companies

Academics & scientists

Media / Press
BENEFITS:
-Business-to-Business match making.
-Participation Certificates.
-Official Recognition with various Russian Oil & Gas Producing Companies.
-International Business Opportunities
-Business E-Visas to the Russian Federation (For forum Participants only)
Further more, the Energy Ministry of the Russian Federation will prompt Embassies in various African, Asian, European and American countries for Visa assistance to participating individuals and firms, so as to enable them arrive to the Russian Federation for the forum.
Olenev Nikolai
Oil & Gas Events Directory,
Moscow - Russia
Tel: +79 65 6600 260
Fax: +749 5719 83 33
Prev Λ New Pyrolysis Oil Process Published by Professor Huber in America NEXT ν How to improve the quality of waste tire oil refining processing
If you wanna to get more details about Unconventional Oil & EOR Russia Forum(3 - 4 December 2013, Marriott Grand Hotel, or the cost of related pyrolysis machine , you can send E-mail to market@doinggroup.com. You can consult our professional engineer and specialized sales team with leave a message in below form.We will contact with you ASAP.You also can visit our factory in Henan,China.Get Detailed address.