Oil press production line ( Oil press machine )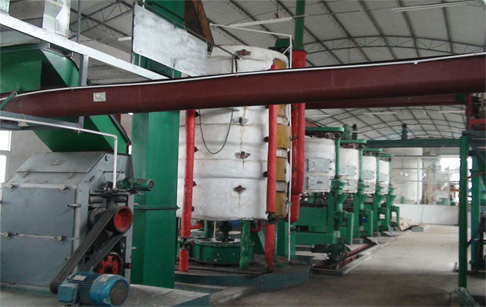 Cooking oil machine plant(flaking machine, cooking pot and oil press machine )

1.The brief description of seed oil press machine production line:
We have two different oil press production line , one is hot press , the other is cold press. Customer can accord to his requirements to decide what press method he wants.
The daily capacity of our oil press production line is 10-2000MT per 24 hours, it can process various kinds of oil seeds, such as sesame, soybean, sunflower seeds, peanut, coconut, rapeseeds, Cotton seed and so on. The oil residue is less than 6%. General speaking, if the final user plans to process several kinds oil seeds, please let us know, then we can collocate special oil press proudction line.
2.Oil press production line includes two parts: oil seeds pretreatment part and press part.
A.Pretreatment Equipments is used for pretreating the raw material, it includes: shelling equipment, Separating equipment, Sieving equipments, Crusher, Flaking machine, Cooker. Different oil seeds, pretreatment machines are a little different.
B.Pressing part includes oil press machine, Clarifying tank. Oil press machine is the most important mahcine in the whole oil press production line. Different oil press , the oil residue is different.
Oil press machine technical parameter
Specifications

Productioncapacity/(T/24h)

Size(L/mm×W/mm×H/mm

Motor power/KW

Press worm number

Cake oi restidal rate/%

Press shaft diam/mm

Working hours/s

Cake thickness/mm




ZX-10

5

1600×900×1330

7.5

8

less 6.5

φ48

30~45

1.5~2

ZX-18

9~10

2900×1580×3240

17

7

6~7

φ78~85

150±

5~8

ZY-24

45~50

2900×1850×3640

30

7

11~13

φ85

65±

12±

ZY-28

140~160

3705×1040×2800

75

7

16~20

φ85-φ95

65±

15±
Prev Λ The end Next ν Palm kernel expeller line
If you wanna to get more details about Oil press production line ( Oil press machine ) or the cost of related Oil Press Machine , you can send E-mail to market@doinggroup.com. You can consult our professional engineer and specialized sales team with leave a message in below form.We will contact with you ASAP.You also can visit our factory in Henan,China.Get Detailed address.