Europe customer come to visit our sunflower oil press/mill machine
Date:2013-07-05 18:14:17 / News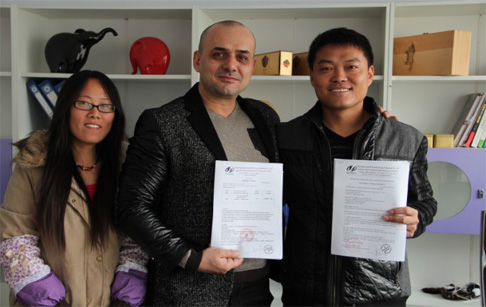 Sunflower oil mill customer


TIME:01/2012
Europe customer come to visit our factory. This customer is very satisfied with our factory's corn germ oil products machinery and service, before he leave to his country, he make a contract with us before leaving.
Sunflower oil production line which includes sunflower oil pretreatment machine with sunflower shelling machine, cleaning machine, flaking machine, and oil mills. This customer order one production line for producing crude sunflwoer oil. His raw material is sunflower seeds with shell.
Base on our experience and advanced tech, our engineer design a suitable sunflower oil production line for him,1.1.2 Process and method of sunflower seeds press:
The hot press process of sunflower seeds:sunflower/vegetable seeds---shelling----Screening---Squeezing---Steaming----Pressing, Filter the sunflower and remove the residue, then enter the flaking machine for seeds flaking. After flaking, sunflower seeds will go into the cooker for steaming and roasting, during steaming add 2-3% water, will start milling after the seeds become brown and the temperature is 110-120℃.
Then the crude sunflower oil will come.
| | | | |
| --- | --- | --- | --- |
| | ZY-24 style | 202-3style | 200A-3style |
| Output capacity (t/d) | 50-55(seed) | 45-50 | 9-12 |
| Residual oil % | 11-13(cakes) | 11-13 | 6-7 |
| Motor(kw) | 30,7.5,22 | 30 | 18.5 |
| Weight (kg) | 7500 | 6500 | 5000 |
| Dimension(mm) | 3060*1970*4500 | 2950*1950*3270 | 2850*1850*3270 |