Plastic pyrolysis plant design
Date:2017-08-02 15:27:25 / Pyrolysis Plant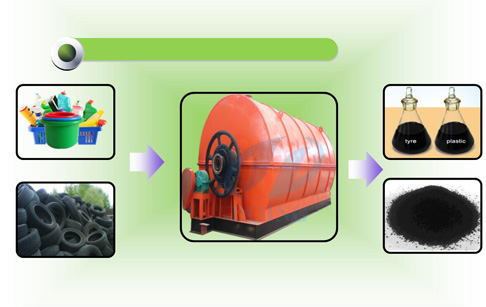 Plastic pyrolysis plant design

Plastic has changed our everyday life. We are involved with plastic or plastic made products in various ways . Plastic plays an important part in our life from morning alarm clock to dinner food table, from coffee cup to desktop PC, from the car you drive to phone you use to talk, from bus to airplane and so on. Plastics are using widely everywhere in our life . Plastic makes our life easier and better. But the palstic bring more and pollution to us ,to solve the problem ,Henan Doing produced plastic pyrolysis plant ,the plastic pyrolysis plant adopts pyrolysis technology that can convert waste plastic to fuel oil and carbon black.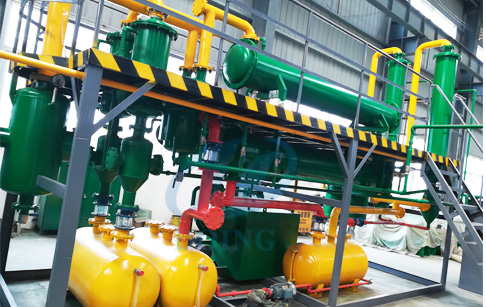 Plastic pyrolysis plant design

The pyrolysis plant designed to turn waste plastic/tyre to fuel oil ,carbon black and carbon black. As a professional manufacturer of pyrolysis plant design, pyrolysis plants with the special design and good performance, which make them become more and more popular in the domestic and foreign markets.
1. Pyrolysis plant Reactor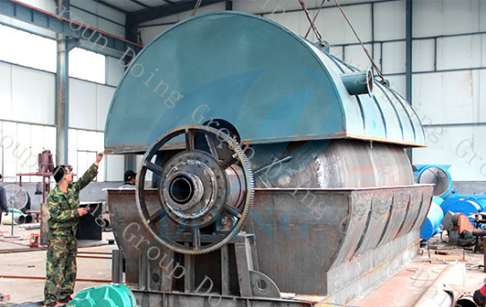 Pyrolysis plant reactor

It is the most important part of the pyrolysis plant, because it is the place where pyrolysis process takes place. Our reactor is made from Q345R steel, which can avoid it being burnt through, thus the service life of the reactor is longer. In addition, the reactor of batch and semi-continuous plastic waste pyrolysis machine is rotary, but for the fully continuous pyrolysis plant, the reactor is fixed. So the heating efficiency and working efficiency can be increased basing on the different capacity.
2. Condenser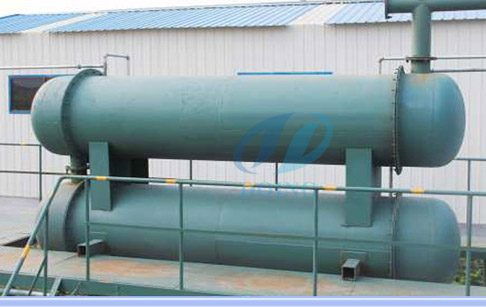 Plastic pyrolysis plant condenser

The new-type tubular condenser has the features of larger cooling area and better cooling effect. So it can improve the oil yield efficiency.
3. Dedusting System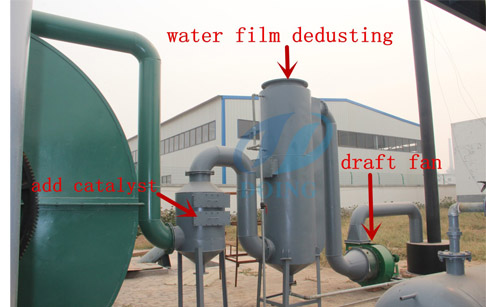 Plastic pyrolysis plant design Dedusting System

It mainly includes water sprayer, ceramic ring filter and washing chamber. It can remove the dust, dioxin and other component in the combustible gas, then the gas can be recycled to heat the reactor. Thus you can save a lot of energy cost. For the exhaust gas produced by burning the fuel, it can also be purified by the de-dusting system before emission.
5. Safety device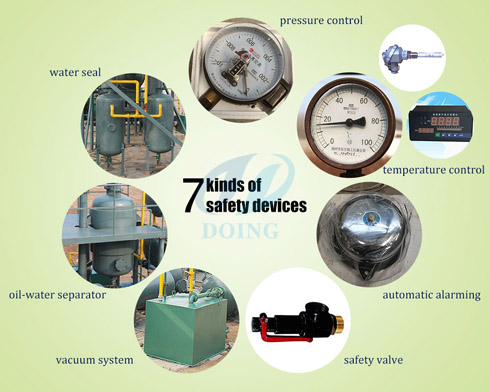 Plastic pyrolysis plant Safety device

The pyrolysis plant is equipped with advanced safety devices, such as over temperature and pressure alarm system, auto pressure releasing system, protecting shell, fire fighting devices and so on, all of which can ensure the plant can work in a safe condition. At the same time, it can also protect the workers.

6. PLC Controlling System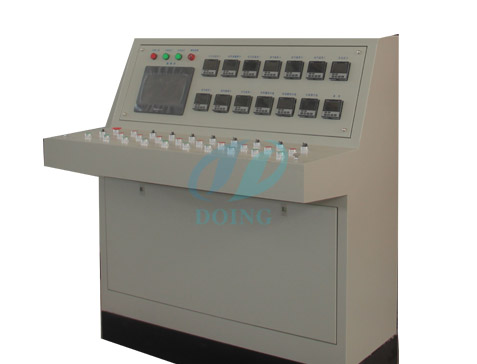 Plastic pyrolsyis plant design PLC Controlling System

It can achieve intelligent operation and avoid the mistakes caused by manual operation.