Printed circuit board recycling processing plant
Printed circuit board recycling processing plant
As the technology developing, more and more electronic waste is generated day by day. Among the electronic waste , scrap printed circuit boards and the leftovers are the main part. Only in our city, every year there are more than 3000 tons scrap printed circuit boards generated. However, inside the waste printed circuit boards, there are many rare metals, like gold, silver, plumbum, stannum, etc. And except the metals, the other part are non-metals, like epoxy resin, phenolic resin, curing agent, glass fiber, etc. In order to dispose the waste and recycle the precious metals, after a few years investigation, we finally developed an efficient recovery process for the waste printed circuit boards, which has been put into use in many different countries.


The printed circuit board recycling processing plant is specially designed for recycling the waste circuit boards, copper-clad plates, printed circuit boards and its leftovers, and the main purpose is for separating the precious metals from the non-metal materials for recycle use. Our printed circuit board recycling processing plant mainly adopts physical separation process, which could get high recovery rate and high purity of the metals, also avoid the secondary pollution to the environment. The main process is as following flow chart. The main separation principle is based on the different gravity and electrical property between the metals and non-metal materials.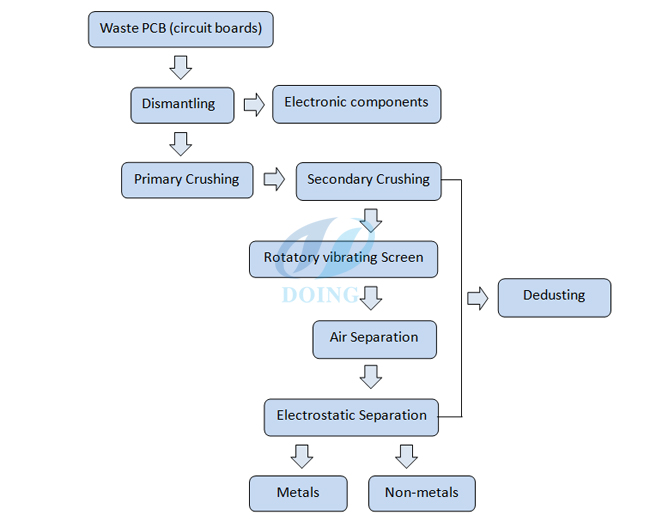 Printed circuit board recycling processing circuit board

Prev Λ Air-separator delivered to Shantou NEXT ν The end
If you wanna to get more details about Printed circuit board recycling processing plant you can send E-mail to market@doinggroup.com. You can consult our professional engineer and specialized sales team with leave a message in below form.We will contact with you ASAP.You also can visit our factory in Henan,China.Get Detailed address.