Vegetable oil refinery introduction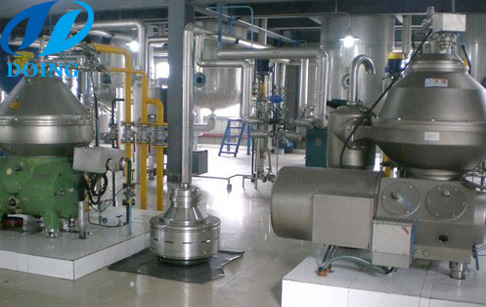 Vegetable oil and fat resources are indispensable to mankind as a source of nutrient and industrial raw materials. Crude vegetable oil obtained from various oil milling units is further refined before use for edible purposes. Refined edible oil is a process where free fatty acids are volatized, condensed and recovered simultaneously with vacuum de-colouring operation.

Sometimes, oil refining process is limited to simple physical treatment such as heating and filtering in regard to refining of superior quality of crude oil. Generally the cake in the oil is separated by centrifuge, decolouring by active clay and steam deodorization at high temperature in vacuum up to 5 mm. Hg. This is not a location specific project and can be set up at a place where crude oil is easily available.


Prev Λ The price of sunflower oil press equipment NEXT ν 5T/D palm oil mill plant installed in Thailand
If you wanna to get more details about Vegetable oil refinery introduction or the cost of related cooking oil machines , you can send E-mail to market@doinggroup.com. You can consult our professional engineer and specialized sales team with leave a message in below form.We will contact with you ASAP.You also can visit our factory in Henan,China.Get Detailed address.