Palm kernel oil fractionation
Oil fractionation process

Oil fractionation process according to their characteristics cooling crystallization and separation processes, sub-conventional method, a surfactant method, solvent method and liquid-liquid extraction.

Fractionation method, also known as dry fractionation, divided into intermittent, semi-continuous and continuous.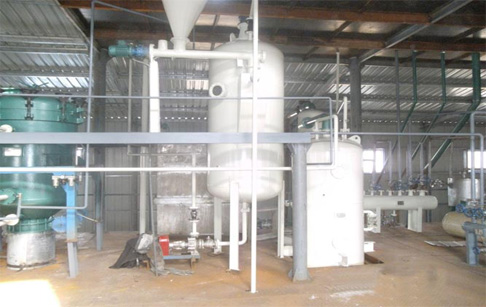 Palm kernel oil making machine

Palm oil is the most important fractionation raw materials, crude palm oil and refined palm oil can be used for fractionation, the main purpose is to obtain oil low freezing point and a higher freezing stability, single-stage production of liquid oil fractionation freezing point at 10 ℃ hereinafter, stearin melting point 44-52 ℃, liquid palm oil for cooking and salad oil substitutes, while stearin used in frying oil, margarine and shortening production. Stearin produced after fractionated palm kernel oil by hydrogenation as a high-quality high-value hard butter or fat, stearin general by a high pressure hydraulic dry fractionation, or mixed with a solvent formulation oil production.


Prev Λ Palm oil fractionation machine Next ν Palm kernel oil pressing machine
If you wanna to get more details about Palm kernel oil fractionation or the cost of related Palm Oil Processing Plant , you can send E-mail to market@doinggroup.com. You can consult our professional engineer and specialized sales team with leave a message in below form.We will contact with you ASAP.You also can visit our factory in Henan,China.Get Detailed address.