A broad investment about soybean oil press machine
Date:2016-12-13 14:15:54 / Industry Trends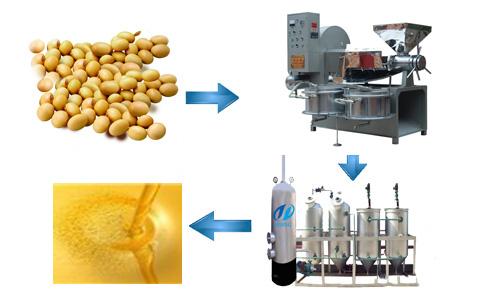 Complete soybean oil making machine

Automatic screw soybean oil press machine is an ideal machine for pressing soybean.

Features of automatic soybean oil press:

1. Used for both hot extrusion and cold extrusion.

2. High oil yield and good condition oil cake.

3. High purity edible oil. As equipped with two vacuum oil tanks to filter pressed oil, the finished oil is of high purity.

4. Sanitary and dural. The automatic machine is made of carbon steel.

5. Safety and convenience oil press. The whole process is controlled by PLC system, making it more safe and easy to operate.
High capacity soybean oil press machine

Soybean oil is a vegetable oil extracted from soybean seeds. The quantity of Soybean oil ranks first all over the world. There are many kinds of soybean oil. Processing methods, there are pressing soya bean oil and solvent extraction soya bean oil. So many people tend to look for soybean oil press machine for sale.More informations about the soybean oil press machine price ,weclome to contact us.