Sunflower oil refining plant-decoloration process
Sunflower oil decoloration process, decoloration process in the sunflower oil refining plant is an essential part, decoloration steps which, today, I'll tell you what share of these problems.

Adsorption decoloration operations in oil and sorbent contact time maximum temperature depends on the adsorption equilibrium between the adsorbent and pigments, as long as the stirring effect is good, do not need to reach adsorption equilibrium wait too long, too much to extend the time, and even make color degree gradually. The decoloration temperature is generally about 20-30 minutes in the control industry.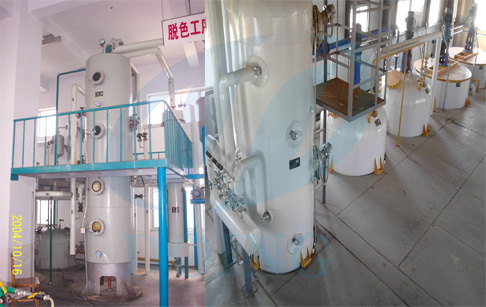 Sunflower oil decoloration euipment

Sunflower oil decoloration process, the adsorption of adsorbent pigment is in the adsorbent surface, which belongs to the heterogeneous physical and chemical reactions. Grease with good stirring to make uniform contact with the adsorbent has a chance. Is the production of steam used in the direct mixing method.

The purpose of decoloration with various oils have different color issue, this is a problem because it contains a different pigment caused. For example, dark green chlorophyll so fat presents a problem; carotene so fat yellow question; during storage, carbohydrate and protein degradation leaving the oil was brown.


Prev Λ High efficiency rice bran oil plant Next ν Refined oil processing technology
If you wanna to get more details about Sunflower oil refining plant-decoloration process or the cost of related Edible Oil Refining Process , you can send E-mail to market@doinggroup.com. You can consult our professional engineer and specialized sales team with leave a message in below form.We will contact with you ASAP.You also can visit our factory in Henan,China.Get Detailed address.