The price of sunflower oil press equipment
Date:2016-12-13 13:43:10 / News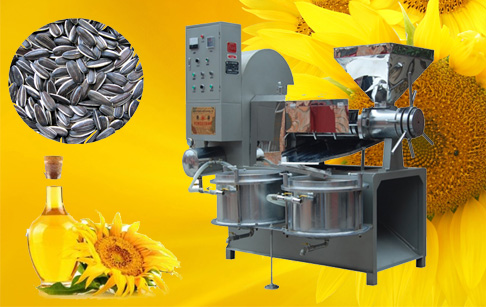 Sunflower oil press machine
Sunflower seeds was once a year plant native to the Americas. It has a large inflorescence, and its name is derived from the flower shape and image, which is usually used to describe the sun. The sunflower oil press plant has a rough, hairy stems, wide, coarsely serrate, rough the leaves and flowers round. Head consists of a single flower in mature seeds, usually in the hundreds, the socket on the base. From America, sunflower seeds to Europe, in sixteenth Century, where the sunflower oil together, they become a common cooking raw material.
Automatic measurement and cumulative, there is no need to manually operating.

Cleaning: in order to obtain high efficient cleaning, to ensure stable production and good working conditions and, in the process of using highly efficient vibration sieve separation, small impurities. Inhaled gravity stone removing machine coating to remove the stone, the shoulder, and the magnetic separation equipment without power supply and exhaust system was used to remove iron. Dust collecting system installation. The dust removal system by hurricanes and centrifugal fan alliance effectively remove dust, so as to ensure the health and light impurities in workshop.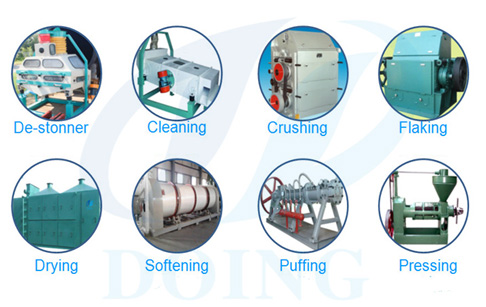 Cooking oil pretreatment machine

Stoner: it is used for the removal of impurities has the size of particles or high density of the same precious stones, and used to remove impurities in the material auxiliary light. It has two blade frame, and used for grading and bottom for the removal of stone, high capacity, high effect. The sieve angle can be adjusted, and the air suction volume can be adjusted. Screw spring support and rubber spring support, stable operation, low energy consumption. The anti-theft system is unique, not stop substances discharged.

When the oil press operation, the prepared material from the hopper into the compression chamber, and then press the screw rotation to move forward, and pressed in the chamber under conditions of high pressure, the friction between the material and the chamber will be generated, which also create friction between the particles and the relative movement, on the other hand, root diameter of screw press carried from one end to the other.