Palm oil fractionation technology
Date:2016-12-10 15:10:26 / Palm Oil Processing Plant /Give me the price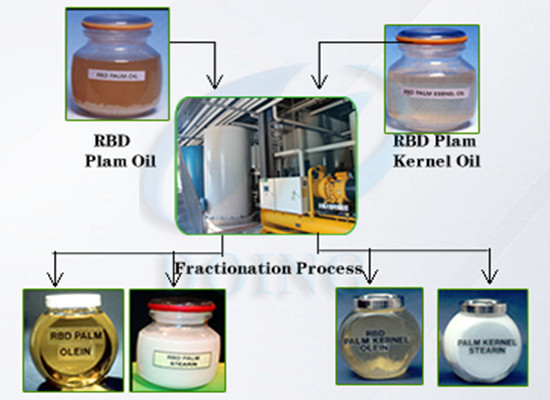 Palm oil fractionation technology

The refined palm oil has two forms:olein and stearin.Under a certain temperature,we can use the palm oil fractionation technology to separate the olein and stearin by their different melting point and melting percentage.The palm oil fractionation technology is an important way of increasing the quality and price ofrefined palm oil.

Capacity: 10-500T/D

Major equipment: crystal jar, water-cooled screw chillers, membrane filter press

Introduction of palm oil fractionation technology:

1:cooling system:heat exchange to cooling the water and provide cold water for the whole sysetm
2.Crystallization tank:to storage oil,andcooling,mixing,it has special mixing stir and a whole water recycle systemcontrolled by PLC. To control the temperature and water flowautomatically. It can get crystal andgrowing the crystal,when the crystal is matured,you can pump it to the next filter.thisway you can get better filtering result.
3.Filtering: Crystallized RBD palm oil is conveyed tomembrane filter though a filter pump. Membrane filter is composed of filter plate, membrane and space plate. Oil slurry gradually enters into the spacethough the filter plate piece by piece. Liquid fat flows out by the corrugatedchannel of rubber membrane through the filter fabric and then enters the softfat tank by closed pipe outside the filters frame, solid fat is leftover.Finally unloading the palm stearin from the plates.
Advantage of palm oil fractiontion technology:

The palm oil fractionation technology adopts advanced palm oil processing technology of controlled cooling, crystallization, filtration and separation technology, obtaining palm oil with different melting points, like 33℃, 24℃, 18℃, 14 ℃,12℃,10℃,8℃,etc. This palm oil fractionation technology with fully computerized automation is featured by low investment, high liquid oil yield, high purity of solid fat, high profit etc.

Palm oil fractionation technology machine

The palm oil fractionation technology is also applicable for palm oil, cottonseed oil, peanut oil, fish oil, chicken oil, algal oil, linseed oil etc.We can design and adjust the palm oil fractionation technology according to your raw materials and capacity.