Pyrolysis process of tyres ?
Date:2013-06-26 13:56:41 / Pyrolysis machine FAQ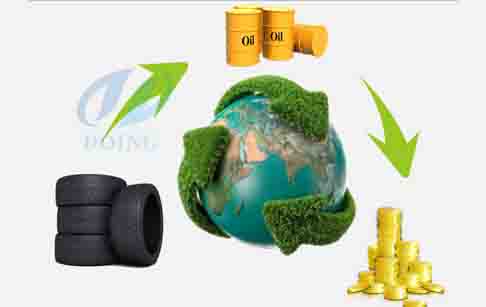 Pyrolysis process of tyre to oil
Along with the rapid development of the world automobiles possession, the problem of environment pollution and resource squandering aroused by waste tires has become more and more serious and obvious.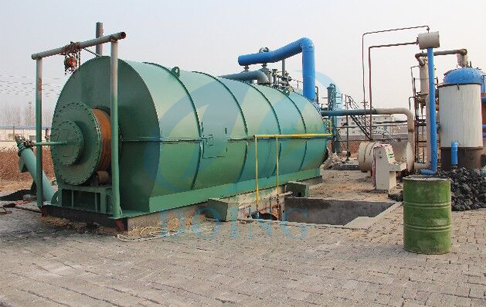 Waste tyre pyrolysis process plant
Recycling waste tyres as resource recovery macromolecular mate rials has drawn worldwide attention. In recent two years, China has become the biggest rubber consumer and rubber import country. It generates as many as 100 million waste tyres while the recycling rate is only about 10%, which is far lower than developed countries. Waste tyre recycling can not only mitigate the problem of rubber resource scarcity of China and save large amount of money for economic constr uction, but also can redu ce the "black pollution" and become the breakthrough point of circular economy development, which is very significant for us to develop the circular economy and es tablish an economical society. Doing group produced waste tyre recycling pyrolysis plant can turn waste tyre into wealth ,the waste tyre recycling pyrolysis plant not only can pyrolysisw waste tyre to fuel oil ,carbon black and steel wire,but also can bring much more profit for you.
Pyrolysis process of tyres ?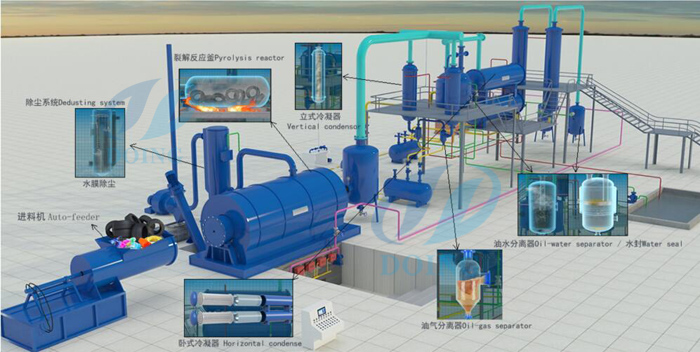 Pyrolysis process of tyre to fuel oil
1. Put raw materials into reactor by auto-feeder, then heat the reactor with any one of the following fuel materials: coal, wood, natural gas, oil. Do not stop heating the reactor, when the temperature reaches nearly 250 degree Celsius, waste tyre will be transferred to oil gas.
2. The liquid oil will be cooled by condenser from oil gas and then collected by oil tank. Third, the exhaust gas which can not be cooled in normal pressure will be recycled to heat the reactor. In this way, you can not only saving energy, but also protecting environment.
3. Smoke produced by processing the tyres/plastics can achieve national emission standard through dual desulfurization and dusting removal device.
4. After you get oil, the temperature will be low, at this time, carbon black will be discharged automatically. Last, when the temperature falls to 100 degree Celsius, worker could put steel wire hook to reactor to take steel wire out. After all these steps, you can start another batch.