Oil refining process
The main oil refining processes:

1, remove the hair oil insoluble impurities, using sedimentation, filtration, centrifugation, and other physical methods;

2, degumming, removal of crude oil phospholipids, myxoid stroma, etc., the general hydration, acid or enzymatic degumming refining;

3, alkali refining;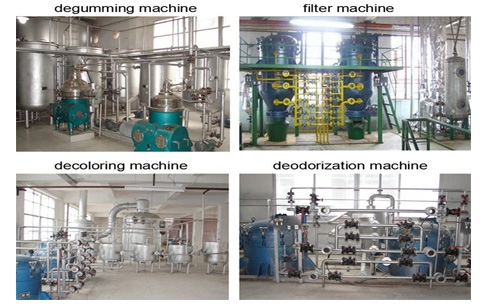 Oil refining machine

4, washed with water, wash the residue in refining the soapstock with water soluble impurities;

5, drying, heating, vacuum drying, removal of refined oil in the water;

6, decolorization using activated clay,to remove the oil in a variety of pigment, resin and oxides;

7, deodorizing or physical refining;

8, dewaxing or degreasing, mainly freezing winter of crystal or crystal fractionation to remove oil waxes;

9, filter or fine filter.
Oil refining machine

Any questions about the oil refining process ,weclome to contact us,our engineer will give you much help.

Prev Λ Oil refining Next ν Cooking oil machine vertical leaf filter
If you wanna to get more details about Oil refining process or the cost of related Edible Oil Refining Process , you can send E-mail to market@doinggroup.com. You can consult our professional engineer and specialized sales team with leave a message in below form.We will contact with you ASAP.You also can visit our factory in Henan,China.Get Detailed address.