Traditional VS modern Africa palm kernel oil processing machine
Date:2016-11-02 15:26:03 / Palm Oil Processing Plant /Give me the price
Traditional VS modern Africa palm kernel oil processing machine

Traditional Africa way to press palm fruit into palm oil is low output and many labor cost.our company improved the technoloy of palm kernel oil processing machine,and make a new design.this new design has a big output,and save much labor cost.

This article is mainly introducing the difference of traditional and modern palm kernel oil processing machine :

Palm fruit thresher:

Palm fruit thresher

Traditional Africa : a man use a axe to cut the FFB into few pieces,then remove the palm fruit from bunch manually

Our new design : using thresher machine to remove the fruit from bunch automatically, save much labor.

Palm fruit sterilizer:

Traditional Africa design: putting the palm fruit into a pot manually,then boil the fruit in the pot
Our design:put palm fruit into fruit basket,and use lift to transport the basket into the sterilizer,boil the fruit inside sterilizer.has a better sterilizer efficient and save labor cost.
Palm oil Presser: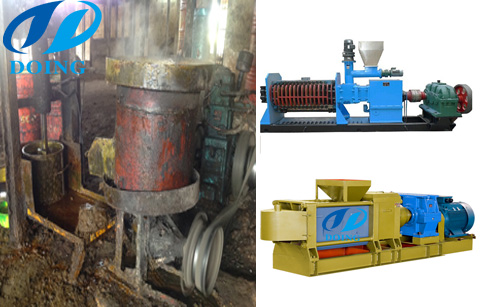 Palm oil press machine

Traditional Africa design:first crush the palm fruit,then put the palm fruit pulp into the vertical oil expeller.this process is complex and work slowly,has a little oil output

Our new design:professional palm fruit presser with a capacity of 500kg/h to 2t/h.put the palm fruit into this oil expeller directly,work efficient.

Palm oil clarification

Traditional Africa design:boil the pressed oil in a barrel,and then remove the impurities,and get the clean oil.this way works slow and can not ensure a good quality of oil
Our new design:use professional oil filter to remove the impurities from oil,get cleaning palm oil

Palm kernel process:

1.Palm fiber and palm nut separation:

Traditional Africa design:dry the fiber and nut under sun,then remove the fiber manually

Our new design:use a specially separator machine to separate the fiber and palm nut efficient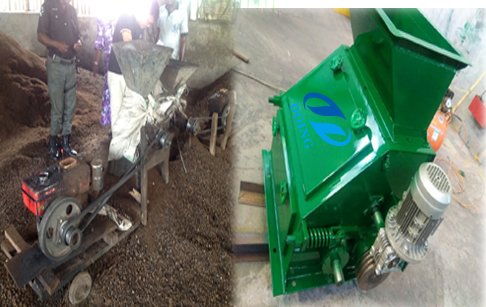 Palm nut cracker

2.Palm nut cracker

Traditional Africa design:small palm nut cracker,the work is ok,but output is small

Our new design:different size of cracker to satisfy different customer's demand.

3.Palm shell and kernel separator

Traditional Africa design:dig a tank and fill some water and other chemical.then put the mixture of shell and kernel in the tank.the kernel will fallen down,and shell will comes out

Our design:vibrate separator works with air separator,to separate the shell cleaning by machine.works efficient and separate cleaning
Palm shell and kernel separator

Our company has engaged in palm oil mill plant for 20 years,we have the professional engineers and many sucessful case in many countries,we can provide palm&palm kernel oil project from 5-1000TPD,if you have any questions about the palm oil mill plant,weclome to contact us,we will service you at 24 hours.