Waste plastic/tyre recycling to fuel oil pyrolysis plant
Waste plastic/tyre recycling to fuel oil pyrolysis plant: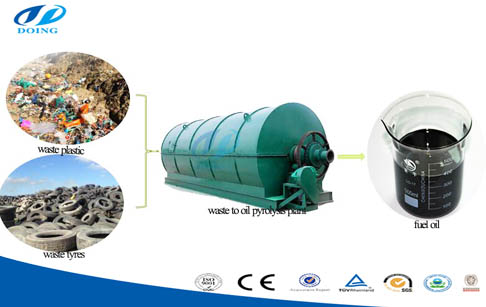 Waste plastic/tyre recycling to fuel oil pyrolysis plant

Specification of waste plastic/tyre recycling to fuel oil pyrolysis plant:

Item

Contents

Input raw materials

Waste plastic/tyre/rubber

End products

Fuel oil, carbon black, combustible gas

Heating material

Coal, charcoal, wood, fuel gas, fuel oil

Model (Diameter*Length) (mm)

Reactor size

General Capacity

HY2200*6000

6 Ton/Batch

HY2200*6600

8 Ton/Batch

HY2600*6600

10 Ton/Batch

HY2800*6600

12 Ton/Batch

Reactor material

Q345R/Q245R Boiler plate / Stainless steel

Thickness

16mm

Weight

15T-35T

Power

Average 15KW/h

Space needed

300-400 square meters (Width:10-15m, Length:30m-40m)

Labor needed

2 workers per shift

Density of oil

0.89g/cm3

Combustion value

44.30KJ/KG
What is pyrolysis:
Pyro = heat. Lysis = break down.
Pyrolysis is chemical reaction. This reaction involves molecular breakdown of larger molecules into smaller molecules in presence of heat. Pyrolysis is also known as thermal cracking, cracking, thermolysis, depolymerization, etc.
Plastic pyrolysis is: the process of converting waste plastics into industrial fuels like Plastic Pyrolysis Oil, Carbon Black and Hydrocarbon Gas.
Plastic pyrolysis involves subjecting plastic to high temperature of 400 to 450 degree Celsius, in absence of oxygen. In case of oxygen is present plastic will start burning. During pyrolysis plastic breaks down into smaller molecules of pyrolysis oil, pyrolysis gas and carbon black. Pyrolysis is a great way of recycling large amounts of plastics. This plant can also used for waste tire recycling.
End products of waste plastic/tyre recycling to fuel oil pyrolysis plant:

Items

Application

Sales Market

Pyrolysis oil

1. Add it into heavy oil generator to produce electricity.2. Used as heating material.3. Sell it into oil refining factory to further process it.

Ceramic factory, glass factory, electric power factory, steel making factory, boiler factory…etc.

Carbon black

1. Deep process it into N220, N330 Carbon black.2. Make it into pellet or briquette for burning.3. Further process it into color master batch as basic material to make pipes, cable jacket…etc.

Coal briquette factory, plastic factory, cable factory, etc.

Waste gas

Recycled into fire furnace to heat reactor to save fuel material.
Oil rate of different plastics:
General Plastics: PET is not suitable (cannot be recycled).
PVC: Such as some of the films, cables, floor, pipes, windows, etc. These are not suitable (It's acidic and will corrode the machine).
PE: Such as some films, diaphragms, film membrane, bottles, electrical appliances isolation materials, reticule, water pipes, oil drum, drink bottle, calcium feeding-bottle, milk bottle, some daily necessities, etc. The oil yield is 95%.
PP: Such as some thin films, plastic ropes, plastic crockery, plastic basin and barrel, furniture, woven bag, bottle cap, vehicle bumpers, etc. The oil yield is 90%.
PS: Such as some electrical appliance, stationery, cup, food container, household appliances shells, electric accessories, foam products, toys, etc. The oil yield is 90%.
ABS (Engineering plastics): about 40%
Pure white plastic cloth: about 70%
Bags of instant noodles: about 20%
Paper-mill waste: wet 15-20%, dry 60%
House hold garbage: 30-50%
Pure plastic cable skin: 80%
Pure clean plastic bags: more than 50%
General Rubbers:
Big truck tires: 45%
Small car tire and bike tire: about 35%
Rubber electric cable and shoe sole: about 35%
Mixture shoe sole: about 30%
Sport shoes: 20%-30%
Waste chemical fiber carpet: more than 30%
PMMA: 40%

Prev Λ Crude oil distillation process NEXT ν Waste tire pyrolysis plant project cost report
If you wanna to get more details about Waste plastic/tyre recycling to fuel oil pyrolysis plant or the cost of related pyrolysis machine , you can send E-mail to market@doinggroup.com. You can consult our professional engineer and specialized sales team with leave a message in below form.We will contact with you ASAP.You also can visit our factory in Henan,China.Get Detailed address.