Converting waste tire to fuel oil pyrolysis plant
Date:2013-06-25 18:07:52 / Pyrolysis Plant
Every year, the growing total number of private car and truck promotes development of economic all over the world; meanwhile, a large number of waste tire has been discarded because of consumption and abrasion. Only 50% of them have been recovered, waste resources have been wasted seriously, and scrap tires disposal has been focused on more and more countries, more and more people are interested in waste tyre to fuel oil pyrolysis plant. It is also called as tyre pyrolysis plant.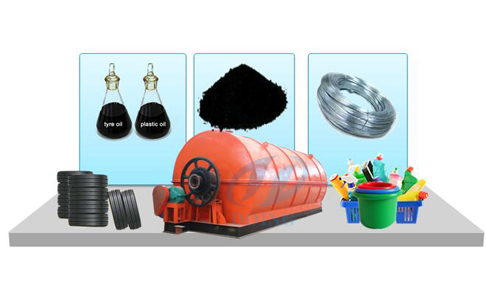 Converting waste tire to fuel oil pyrolysis plant
The Converting waste tire to fuel oil pyrolysis plant is a green technology to solve tire and other environment pollution which are becoming the serious issues nowadays and it is the meaningful industry. The tire pyrolysis oil, one kind of end products extracted from the pyrolysis process, is often used for producing heat, electricity, steam and so on. If this oil can be distilled by professional pyrolysis oil distillation plant, it can be used for vehicle. And the main parts of whole pyrolysis system includes reactor, transmission device, catalytic chamber, cooling tube, manifold, heavy oil tank, light oil tank, oil condenser, oil-water separator, safety device, vacuum system, dedusting system, etc. All parts of waste Converting waste tire to fuel oil pyrolysis plant are manufactured with superior quality materials and advanced technologies, so Doing group can promise that the quality is guaranteed. Therefore, Doing group Converting waste tire to fuel oil pyrolysis plant is one of the most popular machine for environment protection and in great demand in the world.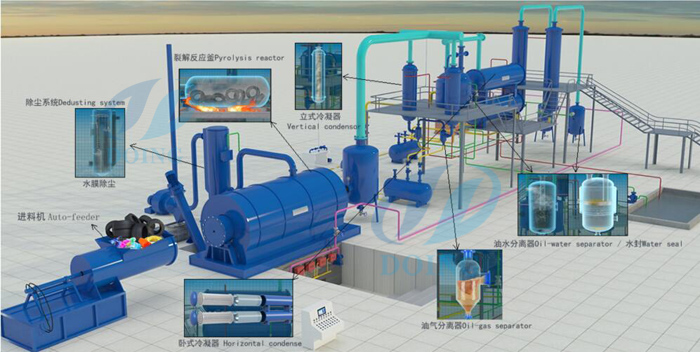 Convertiong waste tire to fuel oil pyrolysis plant


Converting waste tire to fuel oil pyrolysis plant pyrolysis process Put raw material into reactor by full-automatic feeding machine. The reactor is supposed to be left 1/3 space for rotating more smoothly. Then make sure the door of feeding machine is closed. Reactor will be gently heated by burning the fuel material (coal, wood, natural gas, LPG or tire oil generated from last batch). The oil gas will be released when the temperature reached 100℃ (250-280℃ is the top output rate interval). Heavy oil gas separated by manifold is supposed to be liquefied and drop down into the heavy oil tank. The lighter gas will rise up to the oil condensers, be liquefied into oil and stored in the oil tank. The incondensable gas through dusulphuration and dedusting by hydroseal will be led to the furnace for recycling. After all the above work has been done, cool down the reactor.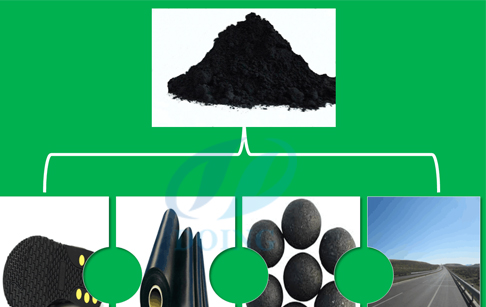 Carbon black application


Then the carbon black will be discharged automatically. There possibly will be a little exhaust gas left, and you should not expel it until it has reached the emission standard. Before starting next batch, make sure all the work has been done.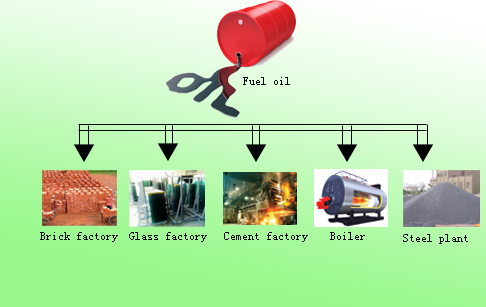 Tire fuel oil applicationThe fuel oil from waste tire is useful, and what you can do with the fuel oil? First, it can be sold as fuel in the market directly. Moreover, you can use our tire to diesel machine to refine the tire fuel oil into diesel. You can contact us to get the information about the plastic to diesel plant.