Why we have to recycle the e-waste?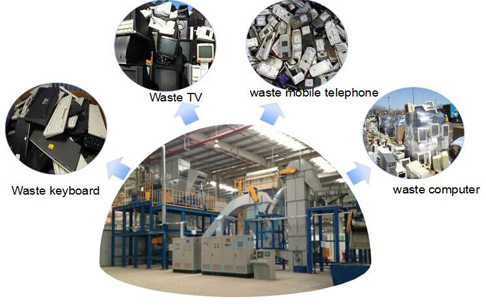 E waste recycle machine
As the breeding products from the information industry, the electronices represented by computer, cell phone and TV generate more and more e-waste. As a kind of waste, e-waste seems have much higher value than other traditional waste. According to a report that the gold content in per ton waste electronices is 17 times as a gold mine, the copper content is 40 times as a copper mine. You can see that if we just leave the e-waste away without recycling day by day, we'll run out all the gold and copper mines.
And except the gold and copper, there are also little heavy metals in the e-waste, like lead, barium, etc, which will cause soil deterioration, acidification and water, air pollution. According to another report that in a Southern city the PH value of the soil is almost 0 and the heavy metal content is exceeded seriously. Also the pollutants in the water have been already exceeded thousands times than the drinking water standard. The main reason is the 100000 tons e-waste accumulation in that area. According to the statictics, on a global scale, there are 20-50 millions tons e-waste generated from the electronics productions, maintenance and processing process. Among that, there is 20-30% e-waste will be dealed with in China, which is pushing us to get a way to solve this serious problem.
By now, we have developed the cable wire recycling machine for recycling scrap cables and wires, the PCB recycling machine for recycling waste circuit boards, and large scale electric appliance recycling line for recycling big home appliances. If you want to more details about these recycling equipments, please feel free to contact us.



Prev Λ What can be recycled copper be used for? NEXT ν What is the high voltage electrostatic separator?
If you wanna to get more details about Why we have to recycle the e-waste? or the cost of related pyrolysis machine , you can send E-mail to market@doinggroup.com. You can consult our professional engineer and specialized sales team with leave a message in below form.We will contact with you ASAP.You also can visit our factory in Henan,China.Get Detailed address.