How is copper recycled step by step?
Date:2016-03-18 18:03:54 / Copper wire recycling machine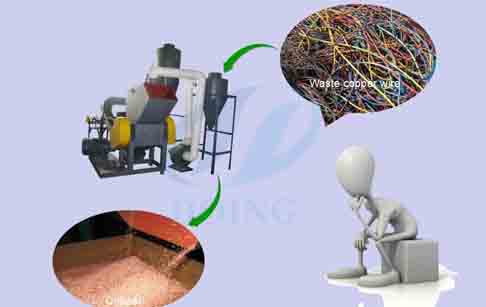 Copper wire recycling process plant

Scrap copper wire recycling machine is a kind of machinery used for recycling waste & scrap copper wire and cables, whose diameter should be below 25mm, Such as Auto electric wire, Motorcycle electric wire, Computer wire and other various miscellaneous material cables, communication cables, etc.

How is copper recycled step by step?

Copper wire recycling process

1.Crushing process
Crushing is the first step to recycle copper. After being crushed, the wire can be 3-5mm.
2.Conveying and dust-collecting
Conveying device delivers the mixture of copper and plastic to vibrating device, during which the dust-collector removes the dust and other light materials.
3. Separating process
Separating process adopts gravity theory, using vibrating separator to make the copper particles and plastic separate completely.
4. Copper-collecting and copper clad recrushing
Copper granule and plastic skin are discharged from two different outlets, if there are any copper clad, they need to be recrushed.

Save