Pyrolysis process of tyres to oil ?
Date:2013-06-25 17:31:09 / Pyrolysis machine FAQ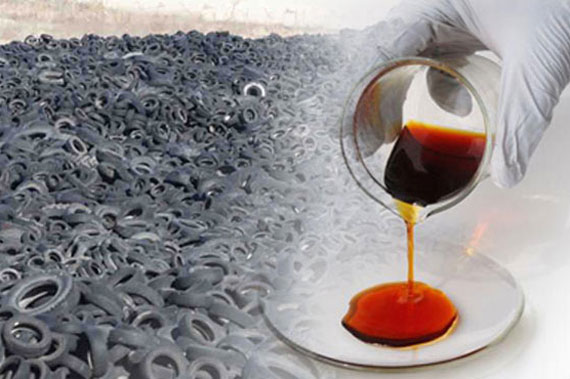 Pyrolysis process of tyre to oil machine

Each year, approximately 100 million tyres are processed by the recycling industry. In the past, scrap tyres — generated when an old, worn tyre is replaced with a new tyre — were often dumped illegally in lakes, abandoned lots, along the side of the road and in sensitive habitats

Today, scrap tyres are playing a much different role as an important part of the manufacturing process. Scrap tyre rubber is used in the manufacture of new tyres, play ground surfaces, equestrian mats and rubberized asphalt among other products. Other cutting-edge manufacturers are combining scrap tires with materials such as scrap plastic to produce flower pots, roofing tiles and auto parts.
A tire is a highly engineered and extensively designed product that is meant to be virtually indestructible under a variety of conditions. Because of this, tires were difficult to recycle, but that has changed. Tire recyclers have invested millions of dollars in technologies and equipment to recycle tires, allowing scrap tyres to play an important role in strengthening our economy and protecting our environment.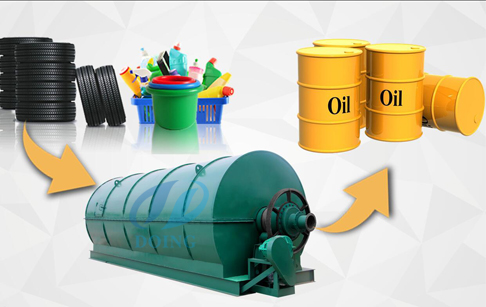 Pyrolysis process of tyre to oil machine
Henan Doing produced pyrolysis process of tyre to oil plant can process this tyre better ,the pyrolysis process of tyre to oil plant can pyrolysis waste tyre to fule oil ,carbon black and steel wire.

Pyrolysis process of tyres to oil ?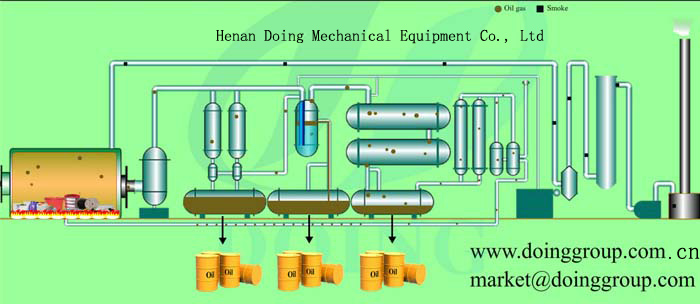 Pyrolysis process of tyre to oil woriking process
1) Put the waste tyre/plastic into reactor and make reactor rotate clockwise 0.4-0.8 r/min. Seal the feeding inlet door tightly and make sure there is no gas leakage.


(2) Heat the reactor by using coal, charcoal, fuel gas, wood etc. as heating materials. The reactor will be slowly heated, and when the temperature reach about 250 degrees, the oil gas will be formed.


(3) The oil gas coming out from the reactor then goes to condensing system and become liquid oil. The gas which can't be liquefied under normal pressure will be designed to go back to combustion system through safety device. It can be recycled to heat the reactor as fuel, which will save energy for the whole working process.


(5) After finishing oil production, the temperature of pyrolysis reactor will fall down, when the temperature falls down to 40 degrees Celsius, we can get carbon black and steel wire.