Difference between fully continuous pyrolysis plant and batch waste type pyrolysis plant
Date:2016-02-25 14:55:07 / Pyrolysis Plant
Continuous waste tire pyrolysis plant

Waste type pyrolysis plant is the equipment line which can process waste tires to fuel oil, carbon black and steel wire for further use.

As the vehicle increasing with the improving living standard, more and more waste tires generated every day. And waste tires as a solid waste not only occupy the land, the most important is it cause pollution to the environment. So how to dispose the waste tires becoming more and more necessary.



Fully continuous pyrolysis plant

This fully continuous pyrolysis plant is improved based on batch type pyrolysis plant, but has many improvements. It mainly has several advantages as below:


1.High capacity, which can process at least 10 tons waste tires per day, up to 100 tons waste tires per day;
2.Fully automatic with continuous feeding and discharge system;
3.PLC or computer control system, thus to save labour;
4.Multiple reactors design for fully pyrolysis to get high oil rate;
5.Indirect heating to prolong the usage life of the reactor;
6.Same as the batch type pyrolysis plant, it's also applicable to process waste plastics.
If you want to know more informations about our fully continuous pyrolysis plant , please feel free to contact us. We DONG Company has specialized in waste pyrolysis plant project for about 8 years, we would like to provide valuable informations and suggestions to help you implement this project.


Save
Save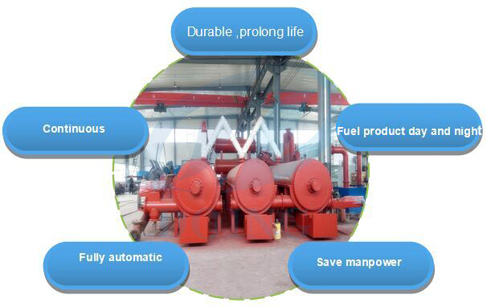 Fully automatic waste pyrolysis plant

We DOING Company as a leading manufacturer in China has specialized in all kinds of waste recycling machinery and the supporting equipments for about 10 years, 5 years experience for domestic market, and 5 years for foreign trading. Such as waste tyre pyrolysis ,continuous waste tyre pyrolysis plant ,waste plastic recycling machine
By now we have installed hundreds of machines in about 30 countries:
Africa: Nigeria, Congo, Egypt, Uganda;
Europe: Romania, Poland, Italy, Macedonia, Albania, Turkey;
Asia: Malaysia, Pakistan, India, Thailand, Iran, Bangladesh, Lebanon, Jordan;
America: Mexico, Ecuador, Haiti, Guatamala, Aruba, Panama, Jamaica, etc.
Except the machine, we have professional engineers can be sent to your factory for installation, commissioning and training your workers after you buy the machine.
Save