Waste tire recycling plant cost
Date:2013-06-25 17:11:04 / Pyrolysis Plant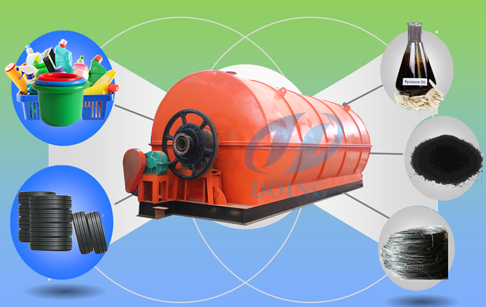 Tire recycling plant

With more and more people pay attention to environmental protection, Doing produced waste tire recycling plant keeping leading in the oil refining market.

The waste tire recycling plant have a lot of main feature:high capacity ,high degree of automation ,high quality,environmental and efficient,can live longer .With the development of industry ,countries stepped up environmental governance,especially for waste disposal.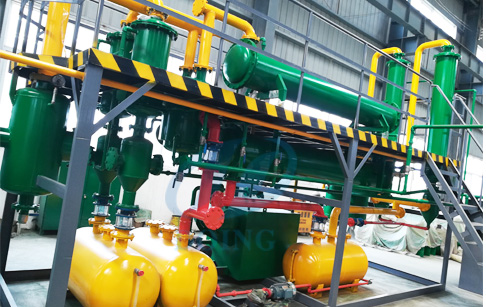 Tire recycling plant

Tire recycling plant can put this waste turn into wealth .The waste tire recycling plant can pyrolysis waste tyre to fuel oil ,carbon black and steel wire.

Take one batch 10t waste tire recycling plant for example:
Total Output:
1. Crude oil: 45%*10t=4.5t
2. Carbon black: 35%*10t=3.5t
3. Steel wire: 13%*10t=1.3t

| | | |
| --- | --- | --- |
| No. | Item | Cost of Per Batch |
| 1 | 10 tons of waste tires | 10T×USD 236/T=USD2360 |
| 2 | 0.4 tons of coal | 0.4T×USD126 /T=USD50.4 |
| 3 | Water and electricity | 200×USD0.16=USD32 |
| 4 | Workers Salary | 4×USD16=USD64 |
| 5 | Total Cost | USD2506.4 |
| | | |
| --- | --- | --- |
| NO. | Item | Income |
| 1 | Crude Oil | 10T×45%×USD709=USD3190.5 |
| 2 | Carbon Black | 10T×35%×USD82=USD287 |
| 3 | Steel Wire | 10T×13%×USD34=USD450 |
| 4 | Gross Profit | USD3927.5 |
| 5 | Daily Net Profit | USD3927.5-USD2506.4=USD1421.1 |
| 6 | Monthly Net Profit | USD1421.1×25=USD35527.5 |
| 7 | Yearly Net Profit | USD35527.5×10=USD 355275 |