Conversion of plastic waste to fuel oil
Date:2016-01-26 15:29:00 / Pyrolysis Plant
Conversion of plastic waste to fuel oil


Conversion of plastic waste to fuel oil of Doing is convert waste plastic to fuel by pyrolysis.The invention and application of the plastic to fuel oil pyrolysis technology to dispose the waste plastic to fuel oil , more and more countries begin to use this technology to convert the waste tire , waste plastic or rubber into oil, carbon black, every 10 tons waste tire and plastics can get 5 tons fuel oil and 4.5 tons diesel oil and 3 tons carbon black .it not only greatly solve the waste treatment problem, and bring some expected benefits .


Conversion of plastic waste to fuel oil working processing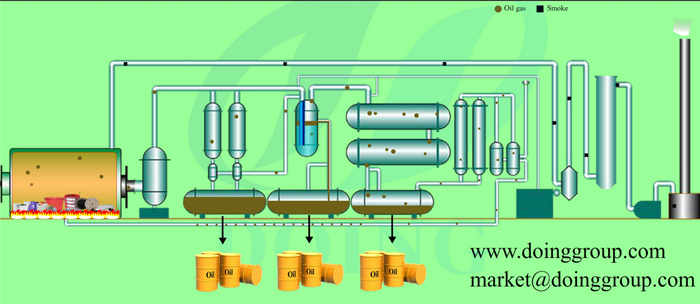 Conversion of plastic waste to fuel oil is processing waste plastic


1.In the waste plastic continuous pyrolysis process, the waste plastic will firstly be put into the reactor.
2.Secondly, burn the fuel material (coal, wood, oil or natural gas) in the combustion system. The reactor will slowly heat, when the temperature reach around 120℃, it will produce oil gas.
3.Thirdly, oil gas will be processed and then go to cooling system to cold liquid oil. The gas which can not be liquid under normal pressure will go back to combustion system to replace the fuel material to burn the reactor.
4.Fourthly, after finished oil production, the temperature of reactor will be down and the carbon black will be discharged automatically.
5. Lastly, the released gas can achieve national emission standard through the dedusting system。
The main character of Conversion of plastic waste to fuel oil


Conversion of plastic waste to fuel oil advantage



Safety:
1. Reactor with auto welding to guarantee the quality of welding seam and avoid cracking
2. Professional heating treatment and x-ray detection chamber for welding seam.
3. Vacuum system to prevent oil gas be back to reactor causing accident.
4. with temperature meter, pressure meter and safety valve.
Environment friendly:
1. Dedusting system to prevent gas and dust from coal burning
2. The exhaust gas will be recycled for heating reactor, no gas pollution
3. Well sealing on every junction parts to prevent gas leak, no smelly
Longer life:
1.use Q245R special steel plate ,thickness 16mm. welding seam with auto welding and will get heating treatment and x-ray detection to extend the life of reactor to the most extend.
2. The life will be 6-8 years
Energy saving:
1. Well sealing for heating system, no gas leak and saving fuel.



Save