Rubber tyre pyrolysis machine
Date:2016-01-19 14:29:49 / Pyrolysis Plant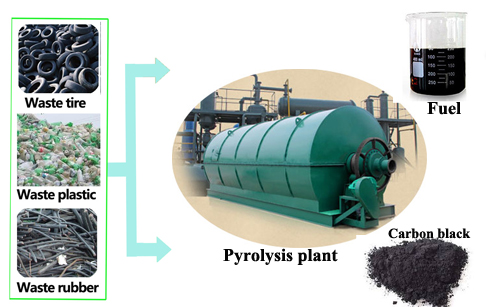 Rubber tyre pyrolysis machine

Rubber tyre pyrolysis machine is converting waste rubber ,waste tyre,waste plastic and oil sludge into useful resources ,such as fuel oil ,carbon black ,steel wire.The rubber and tyre oil can be used as industrial fuel materials for burning, or further refined to diesel or gasoline. The carbon black can be used for making construction bricks with clay or used as fuel. The steel wire can be sold directly or recycled to produce new steel products.
Rubber tyre pyrolysis machine working processing as follow: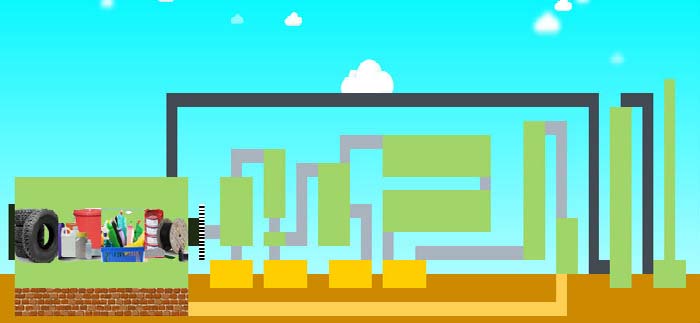 Waste rubber and tyres is processing waste rubber and tyres
Waste rubber and tyres processing flow: tire broken → automatic feed → catalytic cracking → oil-water separation → cooling liquid → carbon black emission → carbon black processing → crude oil → flammable gas recovery → flammable gas combustion → desulfuration removal.
Rubber tyre pyrolysis machine advantage
1. Safety.
We have some safe devices such as the pressure gauge, alarming ring, safety valve. at the same time we have the anti-back fire device which can avoid the fire back into the reactor.  

2. Environment protecting.
If you come to visit our company to see the running plant, you cannot even see the vapor. as we have the dust removal device and dust removal pool.

3. Energy saving.
Our anti-back fire device can collect the exhaust gases which can be fuels after the oil is out so is very convenient and you can save the energy .at the same time, we have the catalyst
chamber which can reduce the temperature of the catalytic prolysis of the tires and plastics. so you can save lot's of energy. except this ,we have vacuum device which let the reactor be negative pressure. So you can image.

4. High degree of automatic.
We have many automatically devices such as: auto-feeder, carbon black elevator, oil pumping automatic, reducing pressure automatic.



Rubber tyre pyrolysis machine working tech data:
Technical parameter of rubber tyre pyrolysis machine


No.

Items

Contents

1

Equipment type

DY-1-6

DY-1-8

DY-1-10

2

Raw material

Waste rubber ,waste tyre


Waste rubber ,waste tyre

Waste rubber ,waste tyre

3

Structural form

Horizontal rotation

Horizontal rotation

Horizontal rotation

4

24-hour Capacity

6 ton

8 ton

10 ton

5

Oil yield

2.7-3.3ton

3.6 -4.4ton

4.5 -5.5ton

6

Operating pressure

Normal

Normal

Normal

7

Material of pyrolysis Reactor

Q245R

Q245R

Q245R

8

Thickness of pyrolysis Reactor

16mm

16mm

16mm

9

Rotate speed of pyrolysis Reactor

0.4turn/minute

0.4turn/minute

0.4turn/minute

10

Total power

19KW

19KW

19KW

11

Mode of cooling

Water cooling

Water cooling

Water cooling

12

Cooling area of condenser

100sqm

100sqm

100sqm

13

Kind of transmission

Internal gear drive

Internal gear drive

Internal gear drive

14

Noise dB(A)

≤85

≤85

≤85

15

Size of Reactor(D×L)

2200×6000

2200×6600

2600×6600

16

Working form

Intermittent operation

Intermittent operation

Intermittent operation

17

Delivery time

20days

20days

20days

18

Weight

27T

30T

35T
Prepared by customer about rubber tyre pyrolysis machine


No.

Item

Consumption

1

Coal(for choice)

500kg/day

2

Wood(for choice)

800kg/day

3

Natural gas(for choice)

100-150kg/day

4

Oil(for choice)

300-350kg/day

5

Electricity

244kwh/day

6

Water(recycled)

60㎥ /month

7

Total power

19kw

8

Land area

35m*15m
Final product of rubber tyre pyrolysis machine
Save
Pyrolysis oil :- 40 to 45%
Carbon black:- 30 to 35%
Steel Wire:- 10 to 15% ( Depend on Type Of Tyre being use )
Pyrolysis Gas:- About 10 %