Home recycling equipment
Date:2015-12-23 15:30:18 / Copper wire recycling machine
Home recycling equipment introduction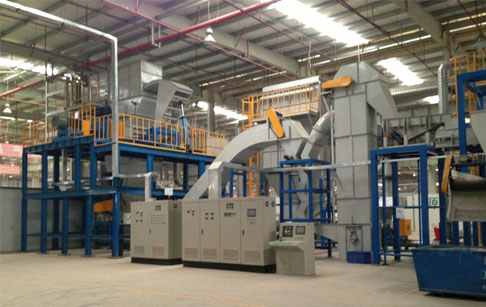 Home recycling equipment
Home recycling equipment is a large scale plant for processing the big size used household appliances or industry electric appliances. It can separate the electric appliance to several parts. Except some parts for direct recycle use, like motors, the other parts can be processed and separated to clean metals and plastics for recycle use.
Home recycling equipment application
Home recycling equipment can be used for recycling all kinds of waste or used electric appliances, such as computer, TV, air conditioner, refrigerator, etc. From the process, you can get clean metals, like copper, aluminum, iron and plastics for recycle use.

Home recycling equipment application to this appliance
Home recycling equipment working process
Home recycling equipment can make pretreatment for the waste refrigerator, air conditioner and other electric appliance which has refrigerant to take out fluorine and tear down the compressor, for the waste washing machine, need to tear down the motors. Then to make the electric appliance go through first rough crushing, second crushing, air classification, foam collection, dust removal, magnetic separation, eddy current separation, electric separation and other process to separate and recycle the iron, copper, aluminum, plastic, Insulation foam membrane and others.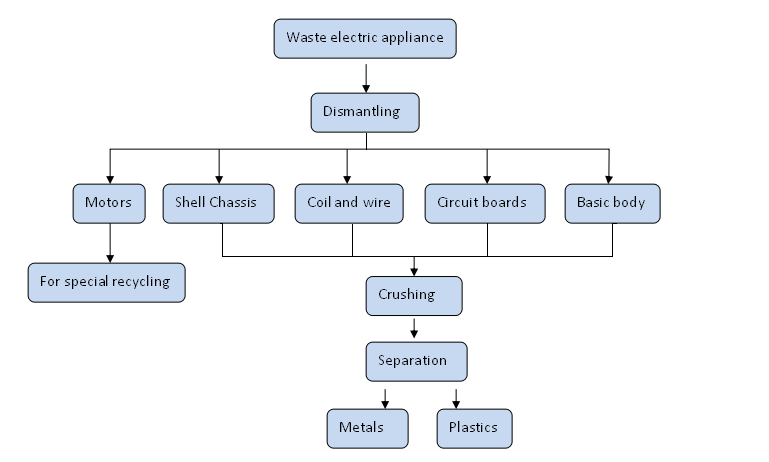 Home recycling equipment flow chart
Home recycling equipment advantage
1.Apply to big size electric appliances
2.Easy to operate with high automation
3.Low operation cost with high efficiency
4.Recycle waste without pollution
5.International advanced technology
6.99.9% high recovery rate