Benefits of soybean oil
Date:2015-12-18 15:13:07 / Cooking oil machine FAQ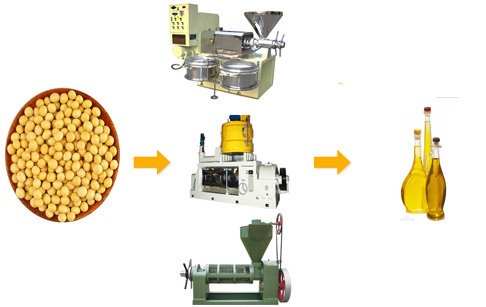 Soybean oil making machine
Benefits of Soybean Oil for Hair
Soybean oil is a common ingredient in salad dressings, margarine and shortening. As a carrier oil for aromatherapy treatments, it acts as a diluting agent for essential oils that can be used to treat your hair, according to Phyllis A. Bauch in her book, "Prescription for Herbal Healing." It can also be used to promote hair growth and add strength and shine to your hair.

It is commonly used as a carrier oil in aromatherapy treatments for hair, which means it is used as a base oil to which different essential oils are added. Some essential oils that can be added to soybean oil and used as a hair treatment include rosemary, which can promote hair growth and stimulate your scalp; lavender, which can condition your scalp and help hair grow; and peppermint, which stimulates hair growth and promotes blood flow to the scalp. To make aromatherapy hair treatments, add a few drops of your chosen essential oil to 1/2 cup of soybean oil. Apply the mixture to your scalp with your fingertips as a pre-shampoo treatment. Rinse well, then shampoo to remove any excess oil and residue.

Benefits of Soybean Oil for Skin
Like many natural oil, soy oil is a very useful oil for the skin health. Recent studies have shown us that soy oil has the ability to improve the skin health immensely. It's a strong source of anti-oxidant nutrients and that is very helpful for keeping the skin healthy and young. Find out more about benefits of soy oil for skin care.
Organic soybean oil is considered very beneficial for the health. It is a rich source of linoleic acid, which is a type of omega-6 fatty acid. Soybean oil is high in monounsaturated fat and polyunsaturated fat. It is also a cholesterol free oil. Soybean oil or soy oil contains vitamins such as B vitamins, Vitamin E and Vitamin K. In addition, soy oil is a great source of linolenic acid. Linoleic and linolenic acids help body to absorb nutrients, which is important for good health. Soy boil is a part of many beauty products including skin enhancing products. Ferulic acid in soybean oil plays important role in skin health. According to the studies, natural compounds of soy oil are extremely good for keeping the skin healthy. Read on to know more about benefits of soy oil for skin care.