What is soybean oil?
Date:2015-12-18 14:59:31 / Cooking oil machine FAQ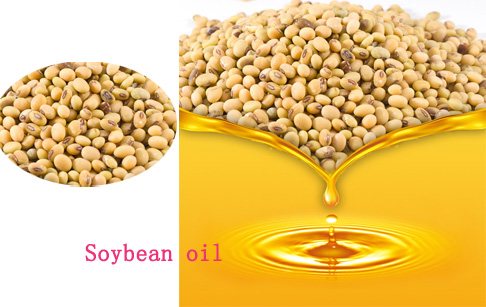 Soybean oil
Soybean oil is extracted from the soybean (Glycine max) and often has a dark yellow or faint green color. Standard vegetable oilis typically composed of soybean oil.
The first domestic use of soybean is traced to the eastern half of North China in 11th BC, or perhaps a little earlier.Soybean is one of the five main plant foods of China, along with rice, wheat, barley, and millet. Early accounts have it that soybean production was localized in China until after the China-Japan War of 1894 to 1895, when the Japanese started to import soybean oil cake as fertilizer.
Soybean shipments to Europe were made in around 1908, although Europeans had been aware of soybeans as early as 1712 through a German botanist's writing. In US literature, the first use of the word "soybean" was in 1804. Most of the early US soybeans were used as a forage crop instead of being harvested for seed.
Today, Americans consume more than 28 billion pounds of edible oils annually, and soybean oil accounts for about 65 percent of the said figure. Mexico and Korea are large customers of US soybean oil.
Unfortunately, about half of the soybean oil used in the country is hydrogenated, as soybean oil is too unstable to be used in food manufacturing. Among the problems with partially hydrogenated soybean oil is trans fat and the health hazards of the soy itself, as well as the prevalence of genetically engineered soybeans today.