Red palm oil introduction
Date:2015-12-18 13:25:31 / Cooking oil machine FAQ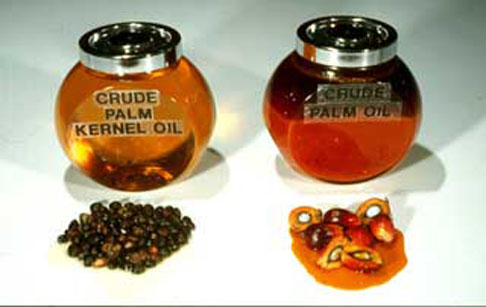 Red palm oil
Red palm oil processing and use :
Many processed foods either contain palm oil or various ingredients derived from it.
After milling, various palm oil products are made using refining processes. First is fractionation, with crystallization and separation processes to obtain solid (stearin), and liquid (olein) fractions.Then melting and degumming removes impurities. Then the oil is filtered and bleached. Physical refining[clarification needed] removes smells and coloration to produce "refined, bleached and deodorized palm oil" (RBDPO) and free sheer fatty acids,which are used in the manufacture of soaps, washing powder and other products. RBDPO is the basic palm oil product sold on the world's commodity markets. Many companies fractionate it further to produce palm olein for cooking oil, or process it into other products.

Red palm oil production :
Since the mid-1990s, red palm oil has been cold-pressed and bottled for use as cooking oil, and blended into mayonnaise and salad oil.
As of 2012, the annual revenue received by Indonesia and Malaysia together, the top two producers of palm oil, is US$40 billion. Between 1962 and 1982 global exports of palm oil increased from around half a million to 2.4 million tonnes annually and in 2008 world production of palm oil and palm kernel oil amounted to 48 million tonnes. According to FAO forecasts by 2020 the global demand for palm oil will double, and triple by 2050.


Red palm oil nutrition and health:
Palm oil is also an important source of calories and a food staple in poor communities.However its overall health impacts, particularly in relation to cardiovascular disease, are controversial and subject to ongoing research.

Much of the palm oil that is consumed as food is cooking oil, to some degree oxidized rather than in the fresh state, and this oxidation appears to be responsible for the health risk associated with consuming palm oil.