What is palm oil ?
General introduction of palm oil and palm kernel oil:

Palm oil (also known as dendê oil, from Portuguese) is an edible vegetable oil derived from the mesocarp (reddish pulp) of the fruit of the oil palms, primarily the African oil palm Elaeis guineensis, and to a lesser extent from the American oil palm Elaeis oleifera and the maripa palm Attalea maripa.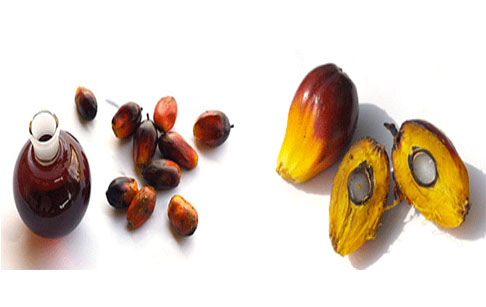 Palm fruit and palm oil
Palm oil is naturally reddish in color because of a high beta-carotene content. It is not to be confused with palm kernel oil derived from the kernel of the same fruit, or coconut oil derived from the kernel of the coconut palm (Cocos nucifera). The differences are in color (raw palm kernel oil lacks carotenoids and is not red), and in saturated fat content: Palm mesocarp oil is 41% saturated, while palm kerneloil and coconut oil are 81% and 86% saturated respectively.

Along with coconut oil, palm oil is one of the few highly saturated vegetable fats and is semi-solid at room temperature. Like most plant-based products, palm oil contains very little cholesterol.

Palm oil is a common cooking ingredient in the tropical belt of Africa, Southeast Asia and parts of Brazil. Its use in the commercial food industry in other parts of the world is widespread because of its lower cost and the high oxidative stability (saturation) of the refined product when used for frying.

Application of palm oil: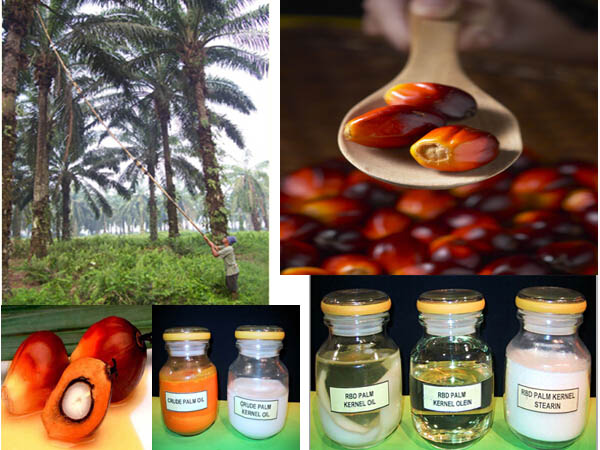 Application of palm oil

The use of palm oil in food products has attracted the concern of environmental activist groups; the high oil yield of the trees has encouraged wider cultivation, leading to the clearing of forests in parts of Indonesia in order to make space for oil-palm monoculture. This has resulted in significant acreage losses of the natural habitat of the orangutan, of which both species are endangered; one species in particular, the Sumatran orangutan, has been listed as critically endangered. In 2004, an industry group called the Roundtable on Sustainable Palm Oil (RSPO) was formed to work with the palm oil industry to address these concerns.Additionally, in 1992, in response to concerns about deforestation, the Malaysian Government pledged to limit the expansion of palm oil plantations by retaining a minimum of half the nation's land as forest cover.
Featured advantages of palm oil:

◆ Large amount of saturated fatty acid, good oil stability, and less prone to oxidative deterioration.
◆Palm oil contains rich vitamin A (500-700PPM) and vitamin E (500-800ppm).
◆The fractionated palm oil, solid fat and liquid oil separated from the solid resin, which can be used to replace the expensive cocoa butter to make chocolate. Liquid used as a salad oil, cooking or frying oil, its light and refreshing taste.
◆A large number of non fractionated palm oil used in manufacturing industries. Production of palm oil soaps can play durable foam and strong decontamination ability. Palm oil can be used for rolling tinplate tin and aluminum foil. Therefore, palm oil is widely used in the world, catering, food manufacturing and oleo chemicals.
Our company is one leading producer of cooking oil equipment in China. We are specialized in edible oil making machine for 40 years. Our company have special engineers for palm oil processing machine and palm oil mill machine.So feel free to submit your palm oil machine inquiry information from online chat, message book.And our engineer will give you a professional advice on your questions.We are always here waiting for your consultation.

Prev Λ What is palm oil used for ? NEXT ν Red palm oil introduction
If you wanna to get more details about What is palm oil ? or the cost of related cooking oil machines , you can send E-mail to market@doinggroup.com. You can consult our professional engineer and specialized sales team with leave a message in below form.We will contact with you ASAP.You also can visit our factory in Henan,China.Get Detailed address.