How to dispose waste circuit board by circuit board recycling machine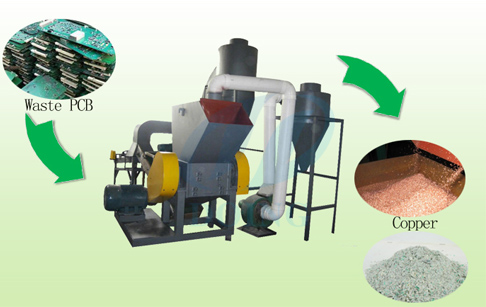 Circuit board recycling machine

Scrap circuit board recycling machine is main consist of pre-breaker-crusher-classifier-separator(high voltage separator,for the airflow separator is out of date in our factory )the mixture of metal and non-metal materials gained from crushing -pulverizing -classifing raw material s of printed circuit boards is fed into the material hopper of air separator,then into the separating zone for separator,since the separator is connected with a dust removal system,a horizontal air current is formed which is moves the materials in horizontal direction .meanwhile ,with the action of gravity .the materials move downward.due to the different specific gravity of material non-metal materials such as fine dust and grains which bear smaller gravity are taken away by the dust removal system .when the mixture passes the separating plate ,leaving the metal materils wiht larger gravity into finished product recovery zone ,thus the separation of metal from non-metal materials is achieved.

Prev Λ Why recycle waste copper wire ? NEXT ν The diesel from waste engine oil and the diesel form tires and plastics,which is better ?
If you wanna to get more details about How to dispose waste circuit board by circuit board recycling machine or the cost of related pyrolysis machine , you can send E-mail to market@doinggroup.com. You can consult our professional engineer and specialized sales team with leave a message in below form.We will contact with you ASAP.You also can visit our factory in Henan,China.Get Detailed address.