What is the main processes of producing vegetable oil?
Date:2015-12-01 09:21:08 / Cooking oil machine FAQ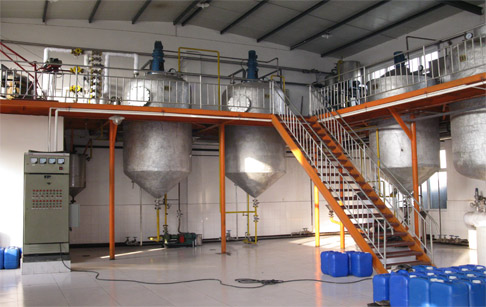 Sunflower oil refining machine
Whole sunflower oil making needs so many machines.And sunflower oil making includs sunflower oil pretreament machine,sunflower oil solvent extraction machine and sunflower oil refining machine.Following is the breif introduction of sunflower oil making in different part.

Oil seeds---pretreatment---prepress---solvent extraction---refining---dewaxing---refined cooking oil.
A. sunflower oil making machine for pretreating:
Sunflower seeds →Magnitic cleaning→cleaning sieve →shelling →flaking→ cooking →pressing or prepressing
B. sunflower oil making machine for solvent extraction:
It is utilizing for extract the maximum oil out from the cooking oil seeds. The final oil residue is less than 1%. It is usually suitable for extract large capacity oil seeds.
Solvent-- Extractor--Mixed oil -- 1st and 2nd evaporation -- Stripping tower -- Crude oil --Wet meal -- DTDC toaster -- Meal
C. sunflower oil making machine for refinery:
Crude oil --- degumming --- deacidification --- decolorization --- deodorization --- refined vegetable oil
If you have any questions or you want to have business of sunflower oil making machine ,please feel free to contact us.